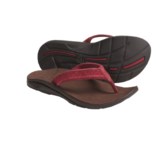 Closeouts. Switch from your old flips to Chaco's Flippa thong sandals, for a Chaco upgrade -- complete with a Bicoentric® anatomic leather footbed, soft suede straps and that coveted Chaco comfort you love.
Average Rating based on
51
reviews
3.764705
0
5
Reviewed by Lo from Michigan on Tuesday, June 4, 2013

I love these sandals. GREAT color, which the photo showed the correct color too. I always buy Chaco they have a better support arch for my high arch foot. Great price too!! Thank you!!!

Reviewed by benihana from California on Thursday, May 23, 2013

I have several pairs of chaco thongs - didn't like these. The tops were fuzzy and sort of thick. They looked funny on my feet. They're going back.

Reviewed by MP from Wyoming on Thursday, May 16, 2013

TO BAD SO SAD....I have other leather Chaco flip flops that I have luv. Great sandal but the straps are too long and I walk right out of them-not a good fit at all

Reviewed by Deedee in the mountains from Georgia mountains on Thursday, May 9, 2013

As usual, the Chaco quality & comfort is great! I can wear these flip flops all day with no problem. This is my 4th Chaco purchase over the last 4 years & still depend on them all.

Reviewed by chaco cat from AZ on Friday, April 26, 2013

SO SAD....I have other leather Chaco flip flops that I have worn to death. I tried really hard to make these work but I walk right out of them. The straps are too long. I have to return them and hope to find others in leather that will fit better.

Reviewed by Mighty the Miracle from Florida on Thursday, April 18, 2013

Just what I wanted...enjoying these cute, casual sandals!

Reviewed by lisa from NJ on Wednesday, April 17, 2013

The shoes are of terrific quality--I loved them as soon as they came out of the box. But the thongs were too big (althought the sole was just the right size) so they flopped right off my feet. Since the thongs only stretch over time, I had to return.

Reviewed by NCMtnGirl from Asheville, NC on Wednesday, April 10, 2013

Couldn't wait to get these - but what a letdown. There was almost an inch too much strap over the foot (and I have a normal sized foot), and could not walk in them. If I could have come up with a way to shorten the straps I would have kept them. Sadly, had to return....

Reviewed by Likes dogs from Illinois on Tuesday, April 9, 2013

They look nice, but hurt my big toe. I forced them to bend by the toe and that helped a little but still can't wear them very long. I don't think I should have to break in flip fliops.

Reviewed by Customer Care from Unknown on Thursday, April 4, 2013

I am a huge Chaco fan! I got my first pair in 2006 and have been wearing them (the pair I got in 2006!) ever since. I finally managed to break the strap so I decided to get myself another pair. This particular model fit well in the footbed, but the straps were far too large and did not hold my foot snuggly into the footbed. It's disappointing that I had such a great pair from 2006 but can't seem to find a pair like them in their newer models...