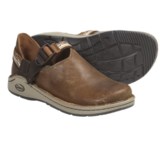 Closeouts. When sandals just won't cut it, Chaco's Pedshed shoes offer a toe-sheltering design in a rich, distressed leather atop Chaco's legendary LUVSEAT comfort platform.
Average Rating based on
20
reviews
3.900000
0
5
Reviewed by Misserh from Tennessee on Thursday, June 20, 2013

Chaco shoes and sandals are great for foot and back issues.
This particular shoe run a little on the large size. Originally ordered normal size and had to exchange for one size smaller.
Will continue to purchase Chaco from Sierra.

Reviewed by S from Washington on Thursday, May 2, 2013

I bought these in my normal size 10, and they fit but they are super roomy in width and height. They look a bit like clown shoes, except brown. That being said, they are perfect garden/work shoes, which is what I bought them for. I doubt I will slip them on to head out for dinner or a school event though.

Reviewed by Sedonite from Arizona on Friday, April 26, 2013

First let me thank the other women who reviewed this shoe and said it ran big. I am usually a solid 11---have even had to return several that were too short. I ordered these in a 10 and they are still really big: I have to wear them with thick socks, or two pairs, for my foot not to slop around in them, and even then they're loose. Like almost all shoes that fit the front of my foot, the heel is huge (almost everyone I know who has large feet says the same thing about this; I wish manufacturers would listen!), and the only thing that makes it workable is the strap being as far back as it is. That having been said, the adjustability of this strap is wonderful, and soooo easy, even more so than velcro because if you want it a little tighter you just have to give it a tug. Like most Chacos, the arches are very high and for this shoe to work you need to be OK with that. Also, as mentioned by other reviewers, the leather is indeed distressed- looking---was kind of scuffed up right out of the box. I happen to like the look of a shoe shaped like a foot in front, but the strap, and the part of it that goes around the back of the heel, are not particularly attractive in my book. However, the leather is really thick, though supple, and will clearly wear for a long, long time. They did not require any breaking in. If you're looking for pretty, this isn't the shoe for you, but if you're looking for comfort and durability, give them a shot. As I recall, it didn't come in half sizes, but if I had the option, I would order it 1 1/2 sizes smaller than my usual size---possibly even 2 sizes smaller. With that proviso, I'd highly recommend them.

Reviewed by Frif from Maine on Thursday, April 25, 2013

I have a wide foot with a high instep and these fit very nicely except they were at least a whole size larger. May try to get a smaller size because they are very nice shoes.

Reviewed by Outdoors a lot from Colorado on Tuesday, April 16, 2013

These shoes have been comfortable from the start, soft, but durable leather and excellent arch support. I've worn these when I had to be standing for long periods as well as walking distances.

Reviewed by Kemana from Kansas on Thursday, March 28, 2013

These looked like comfortable shoes. I have had foot surgery and have painful feet and am on a quest for a comfort shoe. They didn't fit well enough to even try them so I don't know if they are comfortable. I think not.

The leather on this was thick and unyielding. The upper top was gaping - I would have had to have gigantically fat feet for these to fit. The left was larger and looked damaged or wrongly made. I'm returning them.

Reviewed by Nancy from Utah on Tuesday, March 26, 2013

I liked the quality of the shoe, But they run a full size larger or more .
I had to return them would have gotten a smaller pair but not in stock.
will look into buying some on a later date .

Reviewed by Renna S. from Denver, CO on Friday, March 22, 2013

They come in Wide - Yes! The Chaco footbed has GREAT arch support - Yes! Super comfortable right out of the box, with no breaking-in - Great! I'm loving the Chaco PedShed. These are indeed a "rich, distressed leather" and they seems to get a bit more distressed with each wearing, but it looks natural and not flawed, so I'm OK with it - it gives them character. The leather has a great feel - really nice quality - so I trust these to hold up for some serious mileage. If the Chaco footbed fits for you, you'll probably be happy - I know it doesn't work for everyone. Good with pants, even better with tights and skirts. Sleek, simple, non-fussy design. I love them, and I'll be watching for more Chaco styles in Wide.

Reviewed by Mama Coonce from Idaho on Friday, March 15, 2013

Awesome price, speedy delivery and the shoes feel great on my feet.

Reviewed by Just-J from Oakland, CA on Tuesday, March 12, 2013

Size was true for 8.5 Women's wide. The shoes have prominent arch support. At first I thought it would be too much and in fact it was for about a day, then it just felt great and since the fit it good, having that support it really nice. If your fit is not perfect, then the arch may really not work. Sometimes I like a larger shoe than necessary so that I can wear thick, warm socks and with that much arch support, it would have been too off and probably get painful.