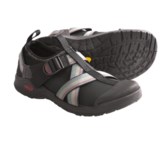 Closeouts. Chaco's Ponsul Bulloo water shoes are perfect for a variety of sports. A neoprene sock provides insulated protection, and the brand's signature Adjust'em straps deliver a unique, customized fit.
Average Rating based on
11
reviews
4.272727
0
5
Reviewed by Dave C from New Jersey on Sunday, August 10, 2014

Expected these to work great on my trip to FL Keys BSA Sea Base with my son. Unfortunately, I had blisters on back of my heels on day one. Made for a challenging week. Shoes are very heavy too. Also, the sole on one of the shoes started to rip off before the end of the week. Guess these water shoes are not up for BSA High Adventure type trips. Not recommended.

Verified Buyer

Reviewed by what's next? from Nevada on Tuesday, July 29, 2014

Walked through the North Creek on the Left Fork trail in Zion from the Subway (we used different shoes to walk to it).
They were great. No sand got in them which was very nice. My boyfriend received a small blister on his heel but It didnt truely bothered him.
We would have liked for them to have a bit more grip from wet rock to wet rock but from wet to dry they were fantastic.
I would recommend these water shoes. We got them on sale and were pleased

Verified Buyer

Reviewed by RikiTiki from Ohio on Monday, July 21, 2014

Got these to wake with my dry suit. With the neoprene and adjustable strap, they work great

Verified Buyer

Reviewed by Anonymous from AL on Saturday, July 5, 2014

Substantial shoes, good price and color. They seem to run about a half size large. I think whatever size you wear in the Chaco sandals, should work for these.

Verified Buyer

Reviewed by Wayne the Gardener from Tennessee on Thursday, June 12, 2014

I had never really had a pair of Chacos before. Many years ago I bought a pair and the arch seemed to be in the wrong place for my foot. But this one is great! It has a removeable insole, which is nice. My feet get kind of cold, but the neoprene covering helps to protect them and keep rocks out. The only aggravating thing is they are a bit hard to put on.
They are great to work in the garden and easy to move around in damp or wet ground.

Reviewed by Mike N from somewhere in the Appalachians on Wednesday, June 4, 2014

I spend a lot of time in rivers. I fish and wade A LOT. I've used rubber soled (never use felt) wading boots and shoes from Simms, Cloudveil, Orvis and Teva. I know what to expect in terms of the limitations and grip from shoes or boots with rubber soles designed for traction on river bottoms. These are hiking soles. These 'water shoes' have the exact same hiking boot style soles as the chaco 'land shoes/ sandals.' Anyone who has ever tried to cross a creek or river in hiking boots will have a good preview of what it is like trying to wade in these. Even dry rocks become treacherous because the sole transports a lot of water (too many deep channels on the bottom). You seriously get better traction with a pair of flip flops (I know because I switched over after wearing these 2 hours). These look nice and they fit great, but unfortunately they don't serve their purpose and I will be seeking a refund from STP.



Verified Buyer

Reviewed by Piesncakes from Wisconsin on Thursday, May 8, 2014

Great water shoe, but really substantial. My husband loved the look and feel, but had a small rub spot on the top of his foot. Exchanged for a pair of columbias.

Reviewed by DC Wells from Georgia on Thursday, January 23, 2014

This is my first pair of hard-soled water shoes. I bought them for kayak fishing on rivers, salt flats and marshes in the Southeast. I have worn Chaco sandals for years, so I expected these would fit and feel much like my sandals. They do in length, but the neoprene does make the shoe feel less form-fitting around the front of the foot, and the arch seems placed differently. That's fine for boating and beach, but I am not sure how they would do on a long walk. I have walked short distances with no discomfort . In general, though, they are very comfortable, and I don't even notice them while I am wearing them. I have been fishing in fairly cold waters, so I usually wear wool socks with them. I like the Chaco adjustability to allow a good fit with or without socks.

Because I often kayak around oyster beds, I appreciate the protection the sole and toe offer. Both are heavy enough to withstand sharp shells and rocks. The neoprene inner socks keep my feet drier and warmer than open designs. They also protect my feet from sunburn.

In general, I recommend these highly. Having bought them at Sierra Traders, I found that the price made them an even better choice.




Reviewed by Joyce from West Virginia on Saturday, January 18, 2014

I bought these for my husband for his birthday and he loves them. Only thing is they were too big so were waiting on the second pair to get here. We both have a pair of chacos sandals already and never go anywhere without them in the warm weather.

Reviewed by greg from austin on Monday, November 11, 2013

I never would have thought to be a Chaco customer because all I knew of them was the ugly sandals. I like the shoes. I wouldnt wear these around town much, but this being Austin, and all the hippies and hipsters wear chaco & tevas & flip flops anyway, I wouldnt look out of place. But these are good working in the garden and in the creeks/ rivers around town.