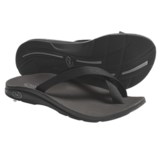 Closeouts. Relaxed style and a quick-drying supportive footbed mean Chaco's Tanana EcoTread thong sandals are perfect for all your warm-weather adventures
Average Rating based on
148
reviews
3.695945
0
5
Verified Buyer

Reviewed by The Tennessee crocheter from Tennessee on Friday, December 18, 2015

I really like the way the flips feel on my feet, plus they stay on my feet! Once they arrived, I didn't want to take them off! They are very pretty colors also.


Verified Buyer

Reviewed by Linda from Georgia on Saturday, September 5, 2015

The shoe length is a perfect fit but the straps are a little tight. I have an older pair that fits great and expect these straps will stretch to fit more comfortably. They are a great looking shoe and otherwise very comfortable.

Reviewed by Brandy from Colorado on Thursday, September 3, 2015

I'm sure they are fine, but the sizes run at least one whole size small. Also, the arch support has a hard inside edge that was very uncomfortable. I returned them.

Verified Buyer

Reviewed by Channy Kay Kay from Illinois on Monday, August 31, 2015

I am very pleased with my purchase. They are slightly heavier than I was expecting and I'm definitely glad I went up a half size instead of down, but I'm still super happy with my choice. I will definitely keep an eye out for me of these at a similar price.

Verified Buyer

Reviewed by AnniefromAustin from Austin,TX on Monday, August 24, 2015

Compared to my usual Chaco's, these are a bit tighter on my feet, but I like that b/c I have narrow feet...Usually I wear an 8 or 8 1/2 size shoe, and in Chaco's the 8 is fine.
It took a few minutes to get used to the material around the toes, but they look great and feel secure that way...Great product , as all the Chaco's are...

Verified Buyer

Reviewed by BHabitat from Colorado on Sunday, August 23, 2015

Per the instructions, I sized down for a half size. This was the wrong move as the shoes were definitely too small.
Given flexibility for the poor fit, I still just didn't like these. the fit seemed awkward on my foot.

Verified Buyer

Reviewed by acpkazoo from Michigan on Saturday, August 22, 2015

I loved the looks of these shoes but the toe straps were extremely uncomfortable. I concluded that I could not wear them. I left them for my daughter in case they fit her better.

Verified Buyer

Reviewed by Macy's mom from Georgia on Thursday, August 20, 2015

Something about these sandals did not work for me and I returned them. They just were not comfortable. It's possible that I should have ordered up one size.

Reviewed by lorraine from Minnesota on Thursday, August 20, 2015

This is my fourth pair of these sandals and I absolutely LOVE them!!!! They feel a little strange and snug at first but after a day of wearing them they are the most comfortable i own and I own a lot of shoes. I wish they came in more colors. Try them you will not be disappointed.

Verified Buyer

Reviewed by Bridget from Alabama on Thursday, August 20, 2015

The straps were an odd fit and I felt like they wouldn't be secure. Returned.

My big issue is that my refund was less than half of what I paid. Will not likely use Sierra Trading again.

Verified Buyer

Reviewed by Rachelizabeth85 from Paducah, Kentucky on Thursday, August 20, 2015

The straps are quite tight and these are not the kind of sandals that you slide on and go. You must wiggle and wrangle your feet into the straps, and even then, they take some getting used to. I hope these become more comfortable in time.

Verified Buyer

Reviewed by missrffie from E TN on Wednesday, August 19, 2015

I can wear these all day long. Bought a pair for my daughter, too.

Verified Buyer

Reviewed by missrffie from E TN on Wednesday, August 19, 2015

Love the fit and feel

Reviewed by Al from DC Burbs on Friday, August 14, 2015

I do love these flops! I've been wearing Chacos for years and they typically run true to size. I read the other reviews about the sizes running small so I ordered up and I'm glad I did. The fit in my normal size would have been too small and tight. The size up fits perfectly.

Verified Buyer

Reviewed by shortty from TN on Saturday, June 20, 2015

These are nice sandals but tend to run about a size and a half small also feel like they are going to fall off your foot

Verified Buyer

Reviewed by Calla Rose from Swansea IL on Wednesday, June 17, 2015

I ordered these thongs because of the comments about heel support, and they look good too. Unfortunately, they run small in length so I am returning them. They're also a bit tighter than other thongs. I wear 7N and normally have to order a smaller size for a M width shoe, but these may have even been short for my regular size. The band over the toe is also snug so it may be better to order a size larger.

Verified Buyer

Reviewed by Amy D. from St. Joseph, MI on Saturday, May 30, 2015

I like the arch support in this sandal, but I probably should have ordered a 9 rather than an 8. The sizing chart suggested that you round down for half sizes. I wear an 8 1/2. The 8 was a little too short. I had to return them.

Verified Buyer

Reviewed by CarrieS from Vermont on Friday, May 29, 2015

The sole of the shoe fit to my foot perfectly but the straps were so tight it would have cut circulation to my toes off!

Verified Buyer

Reviewed by Nicole from Ca. on Monday, May 18, 2015

This is a great pair of casual sandals with style. The colors are great and the comfort is superior after a short "break in" period.

Verified Buyer

Reviewed by Casual mom from Tennessee on Saturday, May 9, 2015

I normally wear a 7 in Chacos but I had to exchange them for an 8. Other than that, they're great!

Verified Buyer

Reviewed by 60 + hiker from Arizona on Saturday, May 2, 2015

Size was right and were comfortable.

Verified Buyer

Reviewed by helimom from SoCal on Thursday, April 30, 2015

Other tan fitting a bit tighter than my thong Chaco sandal, size 9 fit is the same. Very cute on.

Reviewed by Sky in Utah from SLC on Sunday, April 19, 2015

Bought these and was disappointed- they are a full 3/4 inch shorter than my Chaco Z2s that are supposed to be the same size, and the straps are too tight to be comfortable. I was convinced I had been sent the wrong size until I saw the printed "W8" on the back of the shoe. Also they have a smooth footbed unlike most Chaco sandals.

Verified Buyer

Reviewed by woolfan from San Francisco, CA on Tuesday, March 24, 2015

Very tight. Can't even wear around the house, and I have small feet.

Verified Buyer

Reviewed by Chaco Lover from Colorado on Thursday, February 19, 2015

Normally I love Chaco footwear, but I tried these in two different sizes and they just don't fit correctly- they are either very tight or super loose without enough strapping to keep them on.

Verified Buyer

Reviewed by amomfromnyc from New York,NY on Sunday, January 11, 2015

Unlike regular thongs the straps loop around the big toe and stabilizes your foot when you walk. I have plantar fasciitis so need the stability. The high arch provides support and the foot bed is cushiony. Everything I needed in a casual sandal

Verified Buyer

Reviewed by Ben wildlife from Missouri on Sunday, December 7, 2014

Got as a gift for my wife. Nice sandals but they run about half a size too small

Verified Buyer

Reviewed by Julia the singer from Maryland on Tuesday, October 14, 2014

This sandal works much better for my short-toed foot than the Teva Mush thong I also bought. Like all the Chacos I've bought from STP, they have great arch support, and fit me perfectly. They are perfect for wearing around the pool where I do aqua-aerobics. I feel very secure walking on the tile deck around the pool. The footbed helps prevent over-pronation and keeps me from getting foot cramps.

Verified Buyer

Reviewed by AZ SheShe from Arizona on Saturday, September 27, 2014

I take an 8 1/2 or a 9, and ordered a 9 in these flip flops, and they fit perfectly. I wouldn't call them "comfortable" flip flops, but they conform to your feet and are very sturdy; so, I think they'll last a while.

Verified Buyer

Reviewed by SKB from New Mexico on Thursday, September 18, 2014

Really like these. They feel secure on my feet, provide arch support, and look unique. My only complaint is that the strap caused a callus on my toe. Hopefully I toughen up!