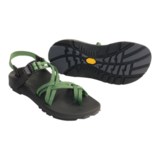 Closeouts. Chaco steps up with a strappy version of its famous ZX/2 sandal and caters to feet that are craving that classic Chaco comfort with an even more customized fit.
Average Rating based on
124
reviews
4.524193
0
5
Verified Buyer

Reviewed by sfchic from NM on Monday, April 27, 2015

The sandals aren't as wide as I'd like them to be. I'm still getting use to them, especially the straps on my large toes! I'm hoping they'll get more comfortable the more I use them.

Verified Buyer

Reviewed by Meg from TN on Monday, April 27, 2015

I have a hard time finding a sole that is comfortable and I can wear all day without hurting the arch of my foot. The unaweep is by far the best Chaco for me! So happy!

Verified Buyer

Reviewed by Esther from Utah on Sunday, April 26, 2015

These are the first pair of chacos I've ever owned and they are everything I imagined it would be and more. Sierra Trading Post have probably the best discounts of any other website I looked at, the delivery was quick as well. One thing is, these sandals are definitely more lime green than yellow. Just FYI. Still look super great!!

Verified Buyer

Reviewed by LoLosDosPerros from Asheville, NC on Thursday, April 16, 2015

As always these are the best sandals! I have not had the double strap or the toe loop before on previous Chacos I have owned. I love both features.

Verified Buyer

Reviewed by Sim & Eugene from Colorado on Friday, April 3, 2015

These shoes feel great once they are broken in, and they are very cute. I was surprised that they are in between green and yellow, not just bright yellow. I'm going to keep them, but I thought others would like a heads up about the color difference.

Verified Buyer

Reviewed by Marksfam from Cartersville, GA on Thursday, April 2, 2015

What can I say? It's an addiction. Nothing feels like a pair of Chaco sandals, and these are no exception--and beautiful to boot! Comfortable, well-made and can stand up to the outdoor abuse and still look nice at dinner.

Verified Buyer

Reviewed by Rachel the Adventure Nanny from Washington, D.C. on Saturday, March 28, 2015

This is my second pair of chacos... They are wonderful, as usual. I've known people to land incredible deals where they find a pair in a small country store for $30 or less, but in general, this price is the lowest you can get. They're worth every penny! The two-strap, toe loop design is my favorite because it's the most custom-fitting and adjustable. It takes a while to get them adjusted the first time but once you do, you're good to go for years.

Verified Buyer

Reviewed by Christine from South Carolina on Tuesday, March 24, 2015

Great sandal for hiking in a wetter and muddy climate. Traction was good for climbing on rocks and the straps didn't rub my feet raw either. The support felt just like a tennis shoe or hiking boot but I didn't have the hassle of hiking with wet shoes or having my feet get too hot. I wouldn't use them for hiking rocky or steep trails but for just an average hiking through the woods they did a good job.

Verified Buyer

Reviewed by Leslie from Alaska on Sunday, March 8, 2015

So pleased with these sandals. Bought these for hiking in Hawaii. So sturdy and comfortable. Amazing to get this kind of support from a sandal. I had a little bit of a hard time adjusting the straps. So if you're the type of person who might find this frustrating just take a deep breath and keep at it. It's worth it! These sandals do run small. I wear a 9.5 or 10 in just about everything. I followed the guidelines and bought a 9. They fit perfectly.

Verified Buyer

Reviewed by Katie from Costa Rica on Monday, February 2, 2015

I was looking for a pair of Chaco's that would be sturdy enough for hiking and climbing, and these are perfect! They have a slightly thicker sole, which was what I was hoping for. And very comfortable!