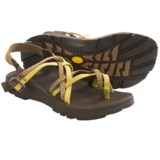 Closeouts. Chaco steps up with a strappy version of its famous ZX/2 sandal and caters to feet that are craving that classic Chaco comfort with an even more customized fit.
Average Rating based on
124
reviews
4.524193
0
5
Verified Buyer

Reviewed by Caribbean Babe from MS on Wednesday, June 3, 2015

Got them the night before my Caribbean cruise - wore them all week!!

Verified Buyer

Reviewed by The outdoor walker from Arkansas on Monday, June 1, 2015

Great sandal!!

Verified Buyer

Reviewed by Comfy shoe lover from Louisville, KY on Monday, June 1, 2015

These are great for usual sandal use but supportive enough for adventure use. I did get a blister on my heel initially, but had worn these two days in a row for many hours. The felt comfortable so that was a bit of a shock. The shoe bed is a material that is easy to clean & seems unlikely to absorb odors!

Verified Buyer

Reviewed by Shannon from Nebraska on Wednesday, May 20, 2015

This is my second pair of Chacos; after having one for a year I figured it was a good idea to get another one so that I have two around. They fit well and have fantastic arch support and are really built to last!

Verified Buyer

Reviewed by Vicki from Montana on Tuesday, May 19, 2015

Very comfortable and easy to a just.

Reviewed by cami from Wyoming on Friday, May 15, 2015

I'm very happy with these sandals! The adjustable straps are brilliant, they help me to cover my bunion a bit. Also, I like that the brown is so dark that they seem to match just about anything. I have a slightly wider foot, and I'm usually an 8, and the length is good on me, as well as the width because of the adjustable straps. So excited to have these functional sandals!

Verified Buyer

Reviewed by Texas Teacher from Texas on Thursday, May 14, 2015

I have been a fan of Chaco sandals for a while now, but this was my first pair of double-strapped shoes. It had taken me a while to get the straps adjusted as the straps on the left shoe kept tightening up and had to be loosened repeatedly. I think they are finally adjusted correctly, and the time and effort it took to get them just right has been well worth it. They are comfortable and cute for everyday wear or for hiking or water activities.

Verified Buyer

Reviewed by CakesByKate from Northerner on Monday, May 11, 2015

I do lots of walking in the summer and go to camp every year I am also going to Europe and I have a feeling these will be perfect!! My feet can breath because it's open unlike tennis shoes, which I love dearly, I was worried about the toe strap but I don't even notice it's there. I normally wear a size 9 or 9.5... And since there were no half sizes I went with the 9's I am glad I did the 10's would be to big! My heel does hang over the end a hair but it's okay! Also I have very narrow feet and the strap can get tight but the strap is real long at the end however you can probably cut and burn it!

Verified Buyer

Reviewed by amanda from alabama on Sunday, May 10, 2015

Chaco sandals are great for anyone needing arch support. Comfortable and get better after multiple wears. Run true to size.

Verified Buyer

Reviewed by Busy Mom from Texas on Tuesday, May 5, 2015

I was skeptical of these because of the reduced price, but they are fantastic! Not too many straps like some of the other styles, and lots of tread and grip without being to clunky or heavy. Comfortable for all day wear, and go with everything. Looking forward to putting lots of miles on these.

Verified Buyer

Reviewed by sfchic from NM on Monday, April 27, 2015

The sandals aren't as wide as I'd like them to be. I'm still getting use to them, especially the straps on my large toes! I'm hoping they'll get more comfortable the more I use them.

Verified Buyer

Reviewed by Meg from TN on Monday, April 27, 2015

I have a hard time finding a sole that is comfortable and I can wear all day without hurting the arch of my foot. The unaweep is by far the best Chaco for me! So happy!

Verified Buyer

Reviewed by Esther from Utah on Sunday, April 26, 2015

These are the first pair of chacos I've ever owned and they are everything I imagined it would be and more. Sierra Trading Post have probably the best discounts of any other website I looked at, the delivery was quick as well. One thing is, these sandals are definitely more lime green than yellow. Just FYI. Still look super great!!

Verified Buyer

Reviewed by LoLosDosPerros from Asheville, NC on Thursday, April 16, 2015

As always these are the best sandals! I have not had the double strap or the toe loop before on previous Chacos I have owned. I love both features.

Verified Buyer

Reviewed by Sim & Eugene from Colorado on Friday, April 3, 2015

These shoes feel great once they are broken in, and they are very cute. I was surprised that they are in between green and yellow, not just bright yellow. I'm going to keep them, but I thought others would like a heads up about the color difference.

Verified Buyer

Reviewed by Marksfam from Cartersville, GA on Thursday, April 2, 2015

What can I say? It's an addiction. Nothing feels like a pair of Chaco sandals, and these are no exception--and beautiful to boot! Comfortable, well-made and can stand up to the outdoor abuse and still look nice at dinner.

Verified Buyer

Reviewed by Rachel the Adventure Nanny from Washington, D.C. on Saturday, March 28, 2015

This is my second pair of chacos... They are wonderful, as usual. I've known people to land incredible deals where they find a pair in a small country store for $30 or less, but in general, this price is the lowest you can get. They're worth every penny! The two-strap, toe loop design is my favorite because it's the most custom-fitting and adjustable. It takes a while to get them adjusted the first time but once you do, you're good to go for years.

Verified Buyer

Reviewed by Christine from South Carolina on Tuesday, March 24, 2015

Great sandal for hiking in a wetter and muddy climate. Traction was good for climbing on rocks and the straps didn't rub my feet raw either. The support felt just like a tennis shoe or hiking boot but I didn't have the hassle of hiking with wet shoes or having my feet get too hot. I wouldn't use them for hiking rocky or steep trails but for just an average hiking through the woods they did a good job.

Verified Buyer

Reviewed by Leslie from Alaska on Sunday, March 8, 2015

So pleased with these sandals. Bought these for hiking in Hawaii. So sturdy and comfortable. Amazing to get this kind of support from a sandal. I had a little bit of a hard time adjusting the straps. So if you're the type of person who might find this frustrating just take a deep breath and keep at it. It's worth it! These sandals do run small. I wear a 9.5 or 10 in just about everything. I followed the guidelines and bought a 9. They fit perfectly.

Verified Buyer

Reviewed by Katie from Costa Rica on Monday, February 2, 2015

I was looking for a pair of Chaco's that would be sturdy enough for hiking and climbing, and these are perfect! They have a slightly thicker sole, which was what I was hoping for. And very comfortable!

Verified Buyer

Reviewed by mattiemay from Chattanooga, TN on Monday, January 26, 2015

these sandals are awesome......love the adjustable straps. My niece loved mine so much I just purchased a pair for her for her upcoming birthday. These are built to last.

Verified Buyer

Reviewed by LeaM83 from Idaho on Wednesday, July 30, 2014

I'm comparing this product to the Chaco Updraft X2 Genweb, which is the pair I decided to keep. The ZX/2 fit my foot OK and is easier to adjust than the Updraft. The toe loop makes your foot feel so much more stable and, assuming you're doing some hiking in these, it will make a big difference. The foot bed of the ZX/2 is a little less molded than the Updraft, so it will fit more feet, but it also offers less support and is noticeably heavier and clunkier/thicker. All things considered, this is a decent sandal, but I preferred the Updraft because it's lighter and seemed a little more supportive.

Verified Buyer

Reviewed by John from Arizona on Monday, June 30, 2014

I walk two miles, twice a day, in these sandals, and wear a second pair indoors (to prevent imbedded cactus spines in the outdoor pair from damaging the flooring) the rest of the day. I do really like the sandals.

I wear something between a mens 9.5C and 10B (European 42 or 43) depending upon the last of the shoe/boot. The women's 11 medium width works just fine. The double straps permit a better fit on the big toe; they can overlap a bit and not seem as stiff.

Verified Buyer

Reviewed by Mountain Girl from Colorado on Tuesday, June 24, 2014

These are my third pair of Chacos and the first since they started producing in China. They are still great, but not quite as comfortable as the other ones I have worn. The heel seems to be narrower on these new ones. Also, the bottoms look a little cheaper (not quite sure how to describe, but just doesn't seem to be fused/glued together as well) so I will see how they hold up compared to the ones I've been wearing for 8 and 10 years. Overall I am happy with my purchase and have had no real issues with comfort.

Verified Buyer

Reviewed by Sarah from California on Saturday, June 21, 2014

I had only heard good things about chacos. When I finally got this pair for myself, it was everything I expected. You can just tell the quality of shoe when you hold them. Very durable, very comfortable, and a great looking shoe. I find any excuse to wear these.

Verified Buyer

Reviewed by Terri S from Indiana on Thursday, June 19, 2014

I have had a few pair of Chaco flip flops, this is my first pair of the sturdier model & I LOVE THEM!


Reviewed by LRiley from Colorado on Wednesday, June 18, 2014

I really wanted these sandals to work for me, but after trying to adjust the straps I gave up. Also the sole on this sandal is rough and was rubbing my feet wrong while walking in the house just trying to adjust the straps. Sadly returning them... :-(

Verified Buyer

Reviewed by All Around Kid from Alabama on Monday, June 16, 2014

Very pleased

Verified Buyer

Reviewed by Kenna from NC on Monday, June 16, 2014

I've been wearing my Chaco ZX/2 sandals for 5 years, and I decided to get another pair to have a different color. I love the support and cushion. I wear these all the time! Most comfortable shoes I've ever worn.

Verified Buyer

Reviewed by Nan from Texas on Thursday, June 12, 2014

I had heard that these sandals were the best but I was still skeptical till I tried them on and wore them the first time. WOW! They are really comfortable and easy to wear. Definitely a great buy!