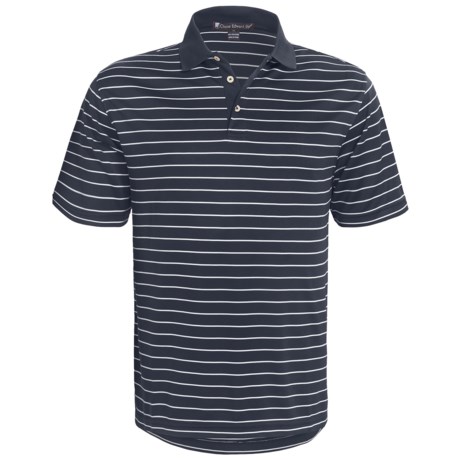 Worth Every Cent. A Polo That's As Sharp On The Course as In The Office on Casual Fridays. Plus for FL Residents, A Every Day Shirt Jan - Dec.
Reviewed by FL & New England Golfer from North & South East Coast USA on Friday, May 3, 2013
Another strong quality shirt that's a steal. At this price one can purchase one in every of the 3-colors offered. Its products like this at prices like this that are making Sierra Trading Post the 1st stop when going shopping online. STP is and continues to be a LEADING supplier of superior products for all family members from a toddler to a great-grand-parent and EVERYONE in between. From socks to German dress shoes that retailed elsewhere for $200+/pr offered at 40-70% off. Then for true STP customers, add our awesome invited via email for one time buyes and special invite only Deal-flyers that share 2 added discounts. The simplest example of a typical Deal-Flyer Offering: $200 Columbia, The North Face, Mountain Hardwear, Momot, and dozen's more strong quality brands of outerwear that sold for $200, then as normal, STP passes its savings to us with 40% off as STP's regular pricing practice , $120 reg. price. Then your emailed Deal Flyer offer's an added 30% off(now price = $84), & a Bonus of 20% off,(now priced at $67.20) and this is a typical Deal Flyer that when you subscribe to them, you'll get 2-3 offerings a week plus an occasional special invitation sale, guaranteeing 80% off. Sierra Trading Post is a fantastic retailer who has a team of corporate buyers who obtain some of the best clothing, huge scope of foot wear, and so many outdoor activity supplies, accessories, clothes for hundreds of different occupations & hobbies.
Most helpful negative reviews
Similar items and more information in the following areas: