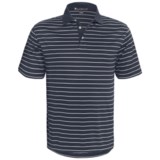 Closeouts. With a light, stretchy double-weave interlock fabric that naturally wicks moisture and feels great on warm-weather days, Chase Edward's Cole polo shirt is a golfer's dream.
Average Rating based on
22
reviews
4.818181
0
5
Verified Buyer

Reviewed by Newbet from Texas on Wednesday, October 12, 2016

Very nice quality. The color is great. Shirt fits my husband perfectly.

Verified Buyer

Reviewed by Newbet from Texas on Saturday, October 8, 2016

Very nice shirt. Runs large. Fabric is great. The blue color is very nice. He will use this for travel.

Verified Buyer

Reviewed by Tom from Rochester, NY on Thursday, April 16, 2015

Fits well and is comfortable. I would buy again.

Verified Buyer

Reviewed by sf from NC on Tuesday, January 27, 2015

Tried it on and it fits true to size and very comfortable.

Verified Buyer

Reviewed by Andrew from Texas on Friday, October 17, 2014

The shirt is comfortable and lightweight, but seems like excessive washing will cause the shirt to unravel itself. Size true to fit.

Verified Buyer

Reviewed by Jer from NC on Wednesday, September 24, 2014

Vibrant color, true to size and nice feel to the touch. Ordered 2 colors and feel the same about both.

Verified Buyer

Reviewed by Webfoot from Seattle on Monday, September 15, 2014

High quality, nice cut, very nice material, long tails, perfect!!

Verified Buyer

Reviewed by Ry from NC on Tuesday, September 9, 2014

I bought 3 different colors of this shirt and happy with them all. The fabric is soft, lightweight, and seems to wick moisture well. I am 6'2", 190 and this shirt fits great. I am always having trouble with shirts being to short and these were just right!

Verified Buyer

Reviewed by Minnesota Man from Minnesota on Thursday, August 14, 2014

Great quality and fit, but order a size below what you normally do. I am 6'5'', 205lbs and a Large fit me well.

Verified Buyer

Reviewed by TWolf from Illinois on Friday, July 4, 2014

I am a bit picky about colors and this one is perfect - I got the Dutch blue. Overall a fantastic shirt. Perfect for warm weather days.

Reviewed by Muawia from Saudi Arabia on Tuesday, July 1, 2014

great quality @ the right price

Verified Buyer

Reviewed by dan from durango from Colorado on Thursday, May 29, 2014

Comfortable, fits well, looks nice, great price. Has a lite silky feel compared to most polo shirts.

Verified Buyer

Reviewed by Momof2teens from Wyoming on Tuesday, May 20, 2014

I bought this shirt for my husband at a great price, but will send it back because it is huge! He usually wears a large, but this is more like an XL. It's also very long, which is great for tall person! I think sizes are getting bigger because I've noticed that often a medium fits him better than a large. The material is great and it looks like a really nice shirt. Unfortunately, there were no mediums left, so he will have to do without. If you buy a size smaller than you normally wear, you should be fine.

Verified Buyer

Reviewed by johnajda from San Mateo, CA on Wednesday, April 30, 2014

I purchased one of these polo shirts (off-white base color with wisteria color stripes) initially several weeks ago and was impressed with the comfort and style of the shirt at such a nominal price (considering the excellent quality, style, and fit). So when STP had another 99-cent shipping sale, I purchased two more of these shirts- one with a dark blue base color (with white sripes) and another with a bright blue (almost turquoise) base color striped shirt; I have worn both shirts and am still amazed at how well they fit and how comfortable they are for the price. I received high compliments on this shirt recently from a close relative (who has a highly developed sense of fashion and knows what really looks good and what doesn't) when I was visiting her and wearing the shirt with the dark blue base color (and white stripes), so I couldn't be more pleased. Frequently there are polyester polo shirts at this price which may look good but just aren't that comfortable because they use a lower quality polyester weave. These shirts Chase Edward Cole polo shirts obviously use a high-quality poly weave and are very comfortable and look great.

Verified Buyer

Reviewed by Dan from buffalo grove on Monday, April 21, 2014

great quality @ the right price

Reviewed by Wirebender from LA on Monday, November 11, 2013

Love all of the Chase Edward's polos. Nice roomy fit, easy to care for. Look as good as the $80 polos, if not better. Price is hard to beat at STP, so, have bought several.

Reviewed by AdkNtv from Adirondacks on Friday, May 3, 2013

Hubby loves the shirts, I love the price and how he looks! Excellent quality and feels so silky soft, fit is very nice, colors are fun and vivid but not so bright to be neon :)

Reviewed by FL & New England Golfer from North & South East Coast USA on Friday, May 3, 2013

Another strong quality shirt that's a steal. At this price one can purchase one in every of the 3-colors offered. Its products like this at prices like this that are making Sierra Trading Post the 1st stop when going shopping online. STP is and continues to be a LEADING supplier of superior products for all family members from a toddler to a great-grand-parent and EVERYONE in between. From socks to German dress shoes that retailed elsewhere for $200+/pr offered at 40-70% off. Then for true STP customers, add our awesome invited via email for one time buyes and special invite only Deal-flyers that share 2 added discounts. The simplest example of a typical Deal-Flyer Offering: $200 Columbia, The North Face, Mountain Hardwear, Momot, and dozen's more strong quality brands of outerwear that sold for $200, then as normal, STP passes its savings to us with 40% off as STP's regular pricing practice , $120 reg. price. Then your emailed Deal Flyer offer's an added 30% off(now price = $84), & a Bonus of 20% off,(now priced at $67.20) and this is a typical Deal Flyer that when you subscribe to them, you'll get 2-3 offerings a week plus an occasional special invitation sale, guaranteeing 80% off. Sierra Trading Post is a fantastic retailer who has a team of corporate buyers who obtain some of the best clothing, huge scope of foot wear, and so many outdoor activity supplies, accessories, clothes for hundreds of different occupations & hobbies.

Reviewed by Camping Friend from Utah on Monday, April 29, 2013

The Chase Edward Cole polo shirt looks great and meets my expectations. I'm not a golfer so I can't write how this shirt would hold up while golfing.

Reviewed by SmassMan from Colorado on Friday, April 12, 2013

This is the perfect golf shirt. $60 - $100 in any pro shop, the price is a great bargain! Size 'large' fits perfectly.

Reviewed by Nina from California on Friday, April 5, 2013

Reviewed by Streamsaver from West Virginia on Thursday, April 4, 2013

comfortable without a logo, which I like. Fits very well and is extremely comfortable.