Christy of England

Sizes

Colors

Reviews

Events

Prices

Popular Christy of England Products

Search Within
Why are Christy towels so incredibly soft and absorbent? On a rewarding journey to Constantinople in the 1840s, Henry Christy discovered a luxurious loop-pile towel fabric and knew he'd found something special. Crafting the soft cotton pile into a bath towel, Christy presented it to Queen Victoria, who was immediately smitten. Like nothing the western world had ever seen (or felt), these absorbent linens were quickly dubbed "Royal Turkish Towels," and thus the legacy of Christy bath towels began. Christy towels are still crafted from the absolute finest in Turkish cotton or Egyptian cotton, an
... Learn more about Christy of England
d many Christy towels are still woven in the company's traditional Cheshire mill. Christy also produces high-quality bathrobes, bed linens and bath accessories like washcloths and tub mats. Indulge in a first-class experience and discover the luxurious cotton in Christy towels… finely crafted to ensure you receive the royal treatment each and every time you bathe. ... Less
About the Christy of England Brand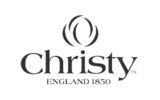 Verified Buyer

Reviewed by B Send from Michigan on Thursday, September 22, 2016

I bought 4 of these so all of our bed pillows would match. They washed up well and went on the pillows fine, the material is comfortable, I did fine the part you put the pillow in kind of weird and doesn't really close in a way that makes sense to me.

Verified Buyer

Reviewed by auntie becca from oregon on Wednesday, September 21, 2016

plenty big and soft. I was disappointed by 2 things. In the photos, the design seems to really stand out from the background. It doesn't, the background is gray and the design is much more blurred. Also, these are not shams in the traditional sense, as the top picture shows. There is not the extra seam to make the edges stand out, and the pillow entrance is not in the middle of the back. In fact, these are just regular pillow cases, not shams, and that's what disappointed me. I would never have bought them for the price if I had seen them in the store.


Verified Buyer

Reviewed by Sunny from Manhattan Beach on Saturday, September 10, 2016

This little rug is for a bathroom in our RV.
Just perfect size??
We also have a larger one for our home and both rugs stay on the spot.
They don't move around like some other rugs.

Receive email updates for new Christy of England items