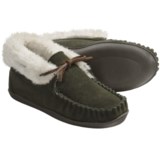 Closeouts. Light as air, Clarks' suede moccasin slippers are cozy havens for your feet, styled with plush faux-fur lining and cushioned indoor/outdoor soles.
Average Rating based on
18
reviews
3.777777
0
5
Reviewed by MJ the Farmer from New York on Saturday, January 4, 2014

Somehow I ended up with slippers that were meant for two left feet. Or at least that's how the right one felt. I guess that's why they're called "irregular?"

Reviewed by Robin from Maine on Thursday, October 10, 2013

I really like the slippers but have only worn them a few hours and already the stitching around the top of the shoe that holds the tongue and side together has become to come apart. Really disappointed because Clarks are usually very well made. This is another instance of manufacturing being outsource to Vietnam, Haiti, China, etc. and the quality of a product going downhill. Come on Clarks - get your act together. I'll fix them myself but shouldn't have to do so. I have no problem with Sierra on this - they didn't make the shoe.

Reviewed by Em from Missoula, MT on Saturday, September 28, 2013

We have tiled floors throughout most of the house, so these mocs are perfect. I ordered a size 10, which is my normal shoe size and after a few wears they stretch to accommodate thick socks. Can't go wrong during Montana winters!

Reviewed by Tory P from Texas on Thursday, September 26, 2013

These are very well made. The rubber sole ensures I will have these for a long time to come. I tend to wear things into the ground, so I like sturdier items. They can be worn outside if needed. I love the dark green color and it is not a usual color for slippers. Absolutely love these!

Reviewed by MJ the Farmer from New York on Saturday, August 24, 2013

Slippers are great except for one pretty big thing: I've been given essentially two left footed shoes...the soles show they're each for the correct feet but the right footed one feels and looks as though the non-sole portion was for the left foot. I think I'll be returning them.

Reviewed by Ann G. from Rhode Island on Wednesday, May 8, 2013

The slippers appear to be nice.

Reviewed by Aaminahs mom from Milwaukee on Thursday, April 25, 2013

I wish I had bought 2 pair. These are so comfortable and versatile.

Reviewed by mjm from Grand Rapids, MI on Monday, April 22, 2013

This is a good slipper for the price. I bought these to replace my acorn slippers that finally fell apart. The acorn slipper was definitely a little better quality, but these are comfy and decent quality for the price. As a perk because Clarks run narrow, they fit my skinny feet!

Reviewed by MNRunnerMom from Minnesota on Monday, April 15, 2013

I ordered these slippers because I had worn holes in a similar pair. They fit well overall and are very warm, but they rub against my ankles so that I had to buy inserts to raise my heel up in the slipper.

Reviewed by Danielle from Portland, ME on Friday, March 1, 2013

These slippers seem amazing. Unfortunately due to my big feet I will never have the oppotunity to indulge in the glorious comfort they offer. Why only carry this product up to size 10 when A) they run small>>see other reviews and B)lots of women wear size 10 and larger. I must say I am very disappointed. I spent a long time picking these out and waited diligently for their arrival only to be tempted by their coziness. Get big, Clark's! I need comfort, too!

I did wear them around the house to see if maybe, just maybe, they could be stretched out.. But after 1/2 an hour my toes were numb. And I do not wear wide width. Please be confident in your size and order one size up. And hope for the rest of us that one day we, too will be able to lounge with cozy feet.