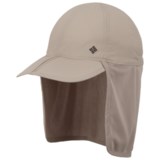 Closeouts. A serious upgrade on the sun protection you'd get from a cap, Columbia Sportswear's Bug Me Not cachalot hat features an Omni-Freeze® back flap for neck coverage, a hefty dose of UPF 30 and Insect Blocker treatment to keep the pests at bay.
Average Rating based on
20
reviews
4.550000
0
5
Verified Buyer

Reviewed by Ishmael from Rockport, TX on Saturday, June 13, 2015

Just finished the Texas 200, sailing a small boat from Port Isabel, TX to Magnolia beach in upper Matagorda bay - 200 miles in 5 days of intense sun and nights of voracious mosquitos. I even wore it in my bunk to keep bugs out of my face. Think I will buy a spare, though no danger of it blowing off with its adjustable elastic.

Verified Buyer

Reviewed by Lucy from coastal MD on Tuesday, June 9, 2015

After sev'l wears in gnatty weather, I haven't noticed any reduction in bug visits to my arms or face. The hat isn't comfortable on hot days (feel too constricting) and the brim is somewhat narrow for a sun protection hat.

I didn't pay a lot, but I did expect btr from a good brand like Columbia.

Verified Buyer

Reviewed by Carol from San Diego CA on Thursday, May 28, 2015

This hat is too cute, for starters. Since I am official bug bait, I hope it to be my salvation. So far, so good. Great price, terrific value.

Verified Buyer

Reviewed by Garden from Colorado on Tuesday, February 10, 2015

I'm going to use this hat for gardening this summer to keep sun off neck and ears. Looks and fits good, but would think it might be a bit small for a man.


Verified Buyer

Reviewed by Greenscales from san Gabriel Valley, CA on Thursday, June 26, 2014

I bought this for high country lakes w/mosquitoes, but the bill is too short as is the neck protector. Main issue is color/general appearance makes it look a bit feminine for my tastes (but it is unisex). I will keep,it a spare if I ever have a woman with me that doesn't have the right gear.

Verified Buyer

Reviewed by Picky from NY on Wednesday, June 18, 2014

But then you knew that before you bought it - repels bugs, as advertised, color is great, bill is long enough to keep shade on the nose most of the day, excellent for cool weather hikes, sunbathing. Very light. Dries fast. The size adjuster on the rear becomes bothersome if you lean your the back of your head against something.

Reviewed by fotokaren from seattle, wa on Wednesday, March 12, 2014

not terribly fashionable, but should keep the sun off my face (the bill is long enough). my concern will be how it performs in the wind since there isn't a chin strap or other way to keep it on your head...could be a flying nun look, or worse, lose the hat in a gust.

Reviewed by Daniel from North Carolina on Monday, March 10, 2014

Recently received this as a prize and I had my choice of several options; this hat was on my list. Typically when hiking I prefer wearing wider brimmed hats instead of lathering my neck, ears and my face with sunscreen. I've used the old tried-and-true hat with a bandanna.

With 30 UPF protection and get material for wicking, this'll be part of my arsenal for a while. It is also supposed to be infused with permethrin for insect resistance ("bug me not" name!). I cannot attest to its insect blocker material due to the weather in my area. Over the next few months, I will update this review. According to the tag, the insect blocker lasts for 70 washes, pretty impressive, but it'll be a while before I can tell if this is true.

Insects which Columbia states can be repelled are ticks, ants, mosquitoes, flies, chiggers and midges.

This is one size fits all hat that has a drawcord in the back. I have a 22 1/2" (around size 7 hat) and it fits perfectly without any adjustment. The bill is constructed of two pieces and bent in the middle so that it can be collapsible. I have easily fit it into my pocket. Other than that, the bill is made from typical plastic material. The material is thin and lightweight so it can be easily folded. I can put it into my pocket no problem. It still may be a bit too big to put into a hip belt, but it could be possible.
I wore this hat over the weekend while cleaning out some garden beds. The hat seemed to wick well and didn't overheat my head. I had a shirt and long sleeve, but eventually took the long sleeve off as it was on the warmer side because of working. No issues with the hat, not tight and is made of durable material while at the same time being light and thin.

That actual hat and not neck flap has some water resistance, as much as any runners cap. The neck flap has the tendency to absorb water more, but as it isn't directly against your potential sweaty neck, shouldn't cause a problem. At that same time, if it is hotter, putting some water on the flap and having it rest against that back of your neck can be a great solution to overheating.

I also had a thought about this hat and how to make it convertible and it hasn't let me down. The neck flap material is thin enough that I can tuck it under the rest of the hat. It fits fine and isn't even noticeable (either visually or how it feels on my head).

From my experience so far I give it 5/5, but I cannot speak for its bug-me-not capabilities. As a result, I give it 4.5 overall, though I'll update as soon as I have a chance to try it in a heavier insect area.

Reviewed by LuNi from Oklahoma on Sunday, January 12, 2014

Excellent hat with a lot of protective qualities. Light. The size fits perfect!!!!

Reviewed by Lynne from Northern Colorado on Tuesday, December 24, 2013

This is the second protective hat I bought for my dad. He wore the first one almost daily in the Florida sun. He loves it!!