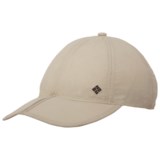 Closeouts. Columbia Sportswear's Bug Me Not hat takes the classic ball-cap silhouette and gives it a heavy dose of functionality with tough ripstop fabric, strong UV protection and built-in bug repellent.
Average Rating based on
25
reviews
4.560000
0
5
Verified Buyer

Reviewed by goplayoutside from everywhere on Wednesday, July 23, 2014

keeps bugs away

Reviewed by moosaki from WV/MD/VA/PA on Saturday, July 19, 2014

I bought this as I already have the fishing version. The pleated bill allow one to stow it especially in a pocket. The insect blocker works well and I buy about any product Columbia makes with that technology. Great neutral color and it holds its shape. Adjust easily.

Verified Buyer

Reviewed by Schene from ID on Monday, June 23, 2014

I'm really picky when it comes to hats. I like for them to sit snug to my head and hate when they "puff" up. So I was a little weary to buy this without first trying it on, but I love Columbia products and figured I'd give it a try. I'm really glad I did too! This hat is great! It fits flat and snug all across my head without any "puffed up" spots.

Verified Buyer

Reviewed by Marlin from Ca on Sunday, June 15, 2014

I use this hat while running, hiking, driving, walking, just about any time I'm outside. I get migraines, and sun glare is a trigger, so this does an great job in protecting my eyes without looking overly bulky.

It is much more comfortable than a regular baseball cap. The lightweight material makes you forget you're wearing it. The well ventilated material also allows sweat to evaporate pretty quickly, and keeps your head cool.

Verified Buyer

Reviewed by Menkon from De on Sunday, June 15, 2014

I love the hat and use it often. Great protection in the heat and sun. daily use! recommend it !

Verified Buyer

Reviewed by Tony from Southern California on Saturday, May 31, 2014

This hat is very breathable and the UPF feature keeps your head cool throughout your hikes. The hat folds up to easily fit in your pocket which will still help keeps the bugs away even without wearing it. Very great purchase!

Verified Buyer

Reviewed by Janet from Florida on Friday, May 23, 2014

This hat is on the small side. Not in size but in how much coverage it gives.

Verified Buyer

Reviewed by Will from New England on Thursday, May 22, 2014

My second order of this hat since I gave the first away. Love it. I dropped a star because a bug bit me on the neck while wearing this hat. I know it's not my head.. but it seemed close enough to my head this sucker shoulda deterred him. So, I picked up a bunch more "bugs away" and "insect blocker" items here on STP. I truly hope they work... even 50% of their claim to repel bugs would be great. New England no seeums and black flies are out and biting.

Hat fits great, no extra material up top to look silly. The hat is very light and packs super small and handy. (will fit in a chest pocket on your shirt even)

Verified Buyer

Reviewed by MCS121 from New York on Thursday, April 17, 2014

I normally look bad in hats. But this one, I look great in! I love that it's foldable for travel. We are just digging out of winter here in the northeast, so I haven't tried it outside yet. I'm planning on taking it on every camping trip this year.

Verified Buyer

Reviewed by Will from New England on Friday, April 4, 2014

I have too many caps… however, this is my first of these new "Insect Blocker" type clothing. I've already worn this, despite the season not yet warming up, due to it's ease of portability. Simply folds and so lightweight… any pocket will do.

Nice. As far as the split brim… I'm going to side with function over form for this one.