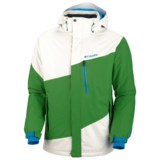 Closeouts. A full-featured jacket with an edgy look that's ideal for winter sports and everyday wear, the Columbia Sportswear Fused Form II Omni-Heat® jacket keeps you warm and dry with its waterproof breathable Omni-Tech® and Omni-Heat® thermal reflective lining backed by soft insulation.
Average Rating based on
16
reviews
4.812500
0
5
Reviewed by tawcat from Arkansas on Monday, January 13, 2014

Bought this for a trip to Alaska in March. When I received it I was a bit concerned if it would be warm enough due to its light weight.

Arkansas, along with the rest of the US experienced well below normal temps, teens and single digits. I figured heres a good time to test this coat out.

I'm happy to report the coat did an amazing job at keeping me warm. Murphy's law showed it's ugly face during the coldest period, tires lost air and I had to air them up; same time my neighbor's pipes froze. I probably spent 45 minutes out in the cold. The coat is great, super warm.

Good product for sure.

Reviewed by RichardinKRV from Lake Isabella, CA on Saturday, January 11, 2014

Columbia has done well with the features in this jacket. The reflective Omni-Heat interior is eye-catching as well as very effective. Omni-Tech features appear to be very well thought out. It was lighter than I expected, but wonderfully warm. The sleaves are a joy. The Powder skirt keeps warm air in (sadly, our drought has kept me from experiencing the effectiveness of the Powder skirt in keeping snow. I usually would have ordered an XL, but a comment led me to 2XL and I am happy with it. Not too big for me.

Reviewed by GagasGardens from Midwest on Friday, December 13, 2013

We bought this for our son-in-law for the harsh outdoor winter weather. Initially concerned about the lightweight fabric but soon learned that the technology behind Omni-Tech is bar none! He could wear additional layers under if he chose but found he didn't need to because his body warmth stayed with him the whole day. Highly recommend this product!

Reviewed by Stumpy from CA on Wednesday, December 4, 2013

Excellent jacket, but XL did not quite fit me, so gave it to my son. His lucky day, I guess.

Reviewed by bikerdon from Apison, TN on Tuesday, November 19, 2013

I continue to be impressed by Columbia clothing. This jacket will be an excellent replacement for my old ski jacket. It seems a little bit light weight, but after putting it on, I think the Omni-Heat technology works like a charm and allows a lighter weight jacket retain more heat. I could feel my body heat radiating inside the jacket. I love the construction of the hat and how it can be used during windy situations or taken off if you choose. I also like the secure fitting of the snow skirt that is built in. There are many pockets inside and out for keeping your hands warm and for storing food or cellphones or ipods. You will not be disappointed.

Reviewed by Drew from Michigan on Sunday, November 17, 2013

Great color, tons of pockets, great quality. Very pleased!

Reviewed by Outdoor Guy from Minnesots on Monday, November 4, 2013

This jacket is very true to size. My son has had two of these that he just loves, and now I see why. Its very warm, well constructed and pockets everywhere.

Reviewed by Endurance sports junkie from Virginia on Monday, October 21, 2013

Our son is working in ND, and he LOVES this jacket! He is just 19, and therefore not quite an XL in the body (6'3" and 170#), but this fits his arms, and he said it's not too terribly large in the body. Still plenty of room for him to layer...

Quality seems what would be expected from Columbia. We have several onmi-heat products in our family, and we love them all, esp for snow sports!

Reviewed by Evan from NJ on Tuesday, September 24, 2013

Pleasant trade

Reviewed by Bob in NH from New Hampshire on Monday, March 11, 2013

Bought the White and Grey Sno-Camo looking jacket because of the size availabilty and price as well as desire to have the Omni-Heat feature which made sense. I live in NH now after moving from upstate NY and the winters are cold. My old Columbia had no Pit-Zips and was at time too warm, so I decided to get this one with all of the features one needs, pit-zips, omni-heat liner, removable hood and ample pockets. After my first few days of wearing the jacket, I noticed my back was cold against the chairlift back on the ride up as compared to my old jacket. I only wear a ski thermal by Under Armor underneath but it wasn't sufficient in weather in the teens with this jacket. As the temps increased in the coming days, no problems were noted and almost had to use the pit-zips but didn't and was nice to know for spring skiing this will be an option. The jacket is lightweight and comfortable to ski in and if you go off trail they won't find you for days with the Camo pattern, it does make you almost invisible against the snow covered trees in the woods and on the slopes. Gets a few head turns! I like it because no one else has this jacket that I've seen on the slopes but if someone is looking for you they may not see you! lol All in all, I think now that I have worn the jacket consistantly, and know how to adapt to the weather conditions with it, it will be my favorite.