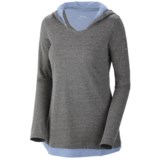 Closeouts. Richly textured jersey lends a dimensional, layered look to your style in Columbia Sportswear's Knotty Trail hooded shirt. The lined hood and hem trim lend a pop of contrasting color and the drapey, flattering design is great for everything from active to casual wear.
Average Rating based on
27
reviews
3.592592
0
5
Verified Buyer

Reviewed by Tippy Toe from The mountains of Utah on Wednesday, November 19, 2014

I usually really like Columbia clothing, however there was something off with this particular shirt. The material had a very worn look, and it had a strange smell permeating from it as well. The length and overall size was great though: I'm 5'8" and 125; I ordered a small, it fit well.

Reviewed by CB from NY on Saturday, February 1, 2014

It looks like as the photos shpw and suit to my girlfriend vell well. And also in spring and autumn, it will be ok for not to be thick for tour, climbing and fishing.

Reviewed by Christine from Minneapolis on Monday, December 2, 2013

Super comfortable, easy to wash, fitted but not tight. My only complaint is that the sleeves are long on me, but height-wise I am a petite, so normal products usually do run long in the sleeves.

Reviewed by D.Y. from Las Vegas, NV on Friday, November 29, 2013

I wear mine constantly.

Reviewed by hal from florida on Monday, November 25, 2013

the material has bumps in it ... great color and fit but it is going back

Reviewed by Vicki from New Hampshire on Tuesday, November 19, 2013

I really like this shirt. I like it's length, color and comfort. It has a slimming effect - bonus! I see how some people might think it is too rough on their skin, but if you're not sensitive I don't think it would be an issue. It's not too rough for me. Very comfy, great price! I think I'll be wearing this a lot.

Reviewed by Scenicart from DE on Wednesday, November 6, 2013

Love it as a casual weekend wear. The texture in the fabric surprised me because you could not see it online. Once washed it is nice and comfy.

Reviewed by DEC from Charlotte North Carolina on Wednesday, November 6, 2013

Overall comfort and style. Like my tops loose so ordered up a size. Not disappointed at all.

Reviewed by Hiker from California on Monday, November 4, 2013

I had to return because it is just too form fitting and tight for my taste. The fabric has "bumps" as othe's have described but I did not find them uncomfortable or chafing. The nature of this jersey style means form fitting but it was just too tight for my style. The two tone is attractive.

Reviewed by pburner from Wisconsin on Monday, October 28, 2013

I do have sensitive skin - and in fact, can not wear any wool as it is "itchy" against my skin. So, I should have trusted the couple of reviews that mentioned the nubbiness of the fabric irritating their skin. If someone is not predisposed to the same problem it is a very fun casual top. I like everything else about it.

Reviewed by BHarris from Ashland, VA on Sunday, October 20, 2013

This shirt is itchy and is an odd length. The hood is loose and isn't very warm. I haven't found a good use for this shirt.

Reviewed by Drifting Dreamer from California on Friday, October 11, 2013

I read a review about how awful the fabric felt, but decided to order the shirt anyway because so many people liked it. It couldn't be that bad, right? When I tried it on unwashed, it was awful, like a shirt designed to be rough, itchy and downright unpleasant. I meant to send it back, didn't get around to it, figured so many people couldn't like it if it was truly unwearable, and ended up keeping it. I washed it twice inside out before wearing it, and it turned out to be OK. I wouldn't recommend it if you have especially sensitive skin, but I can mostly forget about the fabric while wearing it. I hope it softens more with age because I really like how it looks and fits (nice and long and without a lot of extra bulk), but at some point I may yet decide it isn't worth feeling the tiny nubbles in the fabric.

Reviewed by teacher from wet Oregon on Tuesday, October 1, 2013

Outerwear like wool this is a jacket and not a sweater.

Reviewed by eddysdaughter from TN on Tuesday, September 17, 2013

Of course with any Columbia product you will be pleased, but to be able to buy it at a price that won't break the bank is even better. Fast shipping was just the cherry on top!

Reviewed by Missy from Michigan on Thursday, September 5, 2013

Great shirt and fast shipping!

Reviewed by ashf from Indiana on Monday, July 15, 2013

I love this hooded tunic, I pack it with me wherever I go! It is the perfect weight and it is soft and simple. I love to use it to layer with other outfits, or wear alone! I would recommend this shirt to everyone and I hope they bring back this speckled material again as it is so pretty : )

Reviewed by Jess in NY from Long Island, NY on Sunday, June 23, 2013

Returning this shirt. The material is in between a t-shirt and a sweater. I wanted something lighter.
Also, it's SUPER itchy and not soft whatsoever. No sure if this will change with washing but I am not risking $27.

The arms are a little tight for how loose the body is. I like things more close fitting to the body. Bought size S but Xs would have fit body, arms would have been too tight. I really wanted this shirt to work. Oh well

Reviewed by Nicole from Callifornia on Monday, May 20, 2013

I do love the fabric- a brown with a rainbow of flecks. I expected it to be thicker and it wasnt. Fits well- arms are a little on the skinny size but it'll be alright !

Reviewed by Kelley from Colorado on Wednesday, May 8, 2013

Fits perfect! I love this hoodie. It's great for weekend and camping wear.

Reviewed by sunny from NM on Thursday, April 25, 2013

I actually like the variegated color of the brown one. I like the fit - it is nice and long, which is something important to me, as I am on the tall side. It is a nice weight, and drapes well. Fitted-ish; not too boxy. Along with the coloration, though, the fabric is kind of nubby. I think I will be able to overlook this though. I think it will be a nice addition to my cooler-weather wardrobe.

Reviewed by Jen from Wyoming on Wednesday, April 10, 2013

I love Columbia, but they can do better than this

Reviewed by MNMomma from Minneapolis, MN on Sunday, March 17, 2013

I like the colors and the fit of this shirt. But, it is not as warm as I would like. And, for some reason, even though it is cotton, I find it itchy.

Verified Buyer

Reviewed by dog walker from Springfield, Oregon on Wednesday, February 20, 2013

This is a nice long hoodie shirt, flattering and cute. I thought it would be warmer, but the material is t-shirt in weight. It's so nice looking though I kept it.

Verified Buyer

Reviewed by Busy Mom from Grand Rapids, MI on Friday, February 8, 2013

I'm planning to return this.

Verified Buyer

Reviewed by SNG68 from Long Island, NY on Tuesday, February 5, 2013

I liked the cut of the shirt but I ordered the brown and when it arrived, it is actually a brown with multi-colored "speckled" colors running through the material. Ugly. Returned. Unfortunately, you could not see that detail in the photos on the website.

Reviewed by Bev from Kentucky on Monday, January 28, 2013

I had high hopes for this sweater, it looks so cute and warm and hip. But it is long--very long, comes down to mid thigh on me, and has no shape, I just look lumpy and unattractive and like I am wearing a nun's habit and covering up a giant pot belly. Not drapey...not flattering as they claim. The hood is almost non-functional, which annoys me--just way to baggy to stay on your head and makes the neckline gape if you pull it over your head.

Reviewed by Casual momma from North Platte ne on Thursday, January 24, 2013

Love the layered look and the added length around the rear. The picture doesn't do the shirt justice.