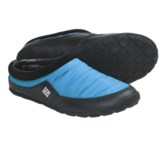 Closeouts. Columbia Sportswear's Packed Out Omni-Heat® slippers keep your feet warm around the house by domesticating outdoor-proven thermal reflective lining. The result is a cozy, lounge-worthy slipper that has an outsole capable of moving outside.
Average Rating based on
20
reviews
4.650000
0
5
Reviewed by Utah girl from Salt Lake City, Utah on Friday, December 16, 2016

These are awesome. Nice and toasty, good enough to wear around camp or out to the mailbox... maybe even all day if you're feeling lazy. I'm actually on the hunt to buy my brother a pair right now - he walked out of the house with mine on and didn't realize it until he got home a few hours later. He loved them. Only hard part is finding them in stock in the sizes I need. I should have stocked up on them!

Reviewed by trailspike from Teton Valley, Idaho on Monday, December 23, 2013

Nice cozy slippers. They are good for short trips outside as they have a rubber sole. My only complaint is the heel is low causing some slippage of the heel within the slipper.

Reviewed by a-long-time-customer from Virginia on Friday, December 13, 2013

I agree with most reviewers. Good slippers and a good value at clearance price. Probably would not purchase at full price. Lightweight yet warm. Slightly on the large side. Wears best with med. to heavy weight socks

Reviewed by SLC from Utah on Thursday, October 24, 2013

great slippers for around the house and can easily go into the yard with the semi-hardsole bottom. Cozy and warm but don't make my son's feet sweaty hot.

Reviewed by Andrew Min from Delaware on Monday, October 21, 2013

warm and cozy. not the most warm slippers in the market but good for indoor/light-duty outdoor.
keeps my feet warm and dry.

highly recommended.

Reviewed by Steve from PA on Monday, July 15, 2013

These replaced my worn out sorels, looking forward to the winter!

Reviewed by Min from Shanghai on Wednesday, June 19, 2013

super comfortable, warm and great after a day of hiking and climbing.

Reviewed by sgsmomma from Texas on Wednesday, May 1, 2013

Bought these as gift for my husband and he said they are the most comfortable shoes he has ever had.

Reviewed by ReapingLily from Iowa on Sunday, April 21, 2013

Got these for my husband so he could quickly slip on & off to start trucks in the morning and while running in & out to grill. He says they're very comfortable & handy.

Reviewed by sam from blowing rock nc on Monday, April 15, 2013

these slippers are awesome! I was hesitant when i didnt see memory foam but they certainly are a fine pair of slippers. I tear up anything i put on my feet but so far these things feel tough.

Reviewed by momma2014 from WI on Thursday, April 11, 2013

I love these slippers! I'm a woman with a wide foot (8 1/2 or 9 wide), so looked to men's slippers. Got these in size 7- fit perfectly. Turquoise blue still looks feminine enough. They are warm and cozy; I want to try an omni-heat jacket now! Decent support for a slipper.

Reviewed by Bigfoot42 from california on Tuesday, March 12, 2013

My normal size is 14 B, My foot floated in Size 14M. In size 13 the slipper was too small.

Reviewed by Dave from Northern Wisconsin on Tuesday, March 12, 2013

As always, STP sent shipment promptly and arrived as expected. The slippers are warm, look nice and very functional.The rubber sole can be used to go take out the trash, check the mail, etc. While the length is as advertised, they are very wide. Granted, I have a narrow foot, but my feet are swimming in these. If they were not so comfortable and warm, I might consider sending them back. But hey, their slippers.

Reviewed by brannon32 from Vallejo, Ca. on Sunday, March 10, 2013

There's nothing pretty about these slippers, but they do a great job of keeping my feet warm on cold nights. They're nice and light and the rubber bottom allows me to walk outside and drop trash in the trash bin without having to worry about getting me feet soaked on those drizzly night.

Reviewed by Dave from MN on Thursday, March 7, 2013

Warmest slippers I ever had. Very comfortble.

Reviewed by no nickname from midwest on Wednesday, March 6, 2013

Comfortable and warm.

Verified Buyer

Reviewed by JB from Colorado on Friday, February 15, 2013

Wonderful slippers. Not only do they go on and stay on the foot easily, but they are well-made, very comfortable, and warm and cozy (but not overly hot). Rubber sole is a nice touch. The slippers are also roomy---great for someone who has trouble finding slippers to fit a size 15 foot---but they can be worn with or without socks. Overall, great buy and great price.

Verified Buyer

Reviewed by Spike from NC on Wednesday, February 13, 2013

These slipper a REALLY warm and comfortable. I like the electric orange.

Verified Buyer

Reviewed by RonJ from Lancaster, OH on Tuesday, February 12, 2013

Great slippers at a good price.

Verified Buyer

Reviewed by Thedoglady from Zephyrhills, FL on Friday, February 1, 2013

Keep feet toasty while outside for a smoke.
Get too warm after a while in side.