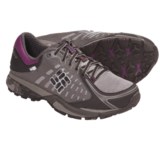 Closeouts. Columbia Sportswear's PeakFreak Low trail shoes combine the chassis of a running shoe with ultra-stable hiking shoe construction and the weather protection of an OutDry® waterproof breathable membrane.
Average Rating based on
23
reviews
4.695652
0
5
Reviewed by kaytea from Central NJ on Monday, January 12, 2015

This is the first time I am buying Columbia shoes and I'm glad I bought these when my size was available....These are comfortable and true to size. They are similar in weight to a running shoe so they are much lighter than my Vasque and Keen hiking shoes. I found the width of the toebox "just right" and not too wide. At first the collar around the outer ankle felt too stiff and too high, but that settled down after an hour of walking around the house. I'm a stickler for arch support and these shoes feel fine with enough support. I haven't worn them in rainy or snowy conditions yet but I did stick them under the faucet for a minute and the water beads right off.

Reviewed by WithMyDog from Virginia on Tuesday, October 7, 2014

A great choice for multi-tasking, hiking trails, down to the beach on wet sand and pavement all the way home again. I bought the only color available in my size and am not that happy as I like more neutral tones, but otherwise, meets all my needs.

Verified Buyer

Reviewed by Happy Hiker from PacNW on Saturday, July 26, 2014

The shoes are comfortable and true to size. The toe box is nice for feet and toes that might swell a bit after a nice hike in the woods.

Verified Buyer

Reviewed by spinner from Naples fl on Thursday, July 24, 2014

When it comes to runnung shoes, i am a die hard Brook's fan. I am so glad I tried these Columbia instead, based solely on STP reviews! These shoes are true to size, comfortable out of the box, roomy without looking clunky.

Verified Buyer

Reviewed by Marcia from Spokane, WA on Tuesday, June 3, 2014

I walk my dogs twice everyday, regardless of the weather, 1 to 3 miles each time on a dirt country road. These shoes are perfect. Comfortable with good support. I have not worn them in heavy rain yet, but seem water proof.

Columbia shoes fit my lifestyle.

Verified Buyer

Reviewed by hessica from northern Wisconsin on Tuesday, May 27, 2014

I have always liked columbia shoes and had good luck with them, but I've never had a pair that is so light but wide enough for my toes to spread out so comfortably. The first time I wore them, I took them into a swampy area with standing water, and they only got a little wet when the water was high enough to come over the mesh parts. They also dried amazingly fast. I love that the mesh keeps my feet cool enough but doesn't let wind in along the sides. Other reviewers didn't like the stiff structure to the ankle area, but I need and appreciate the ankle support. It isn't burdensome at all to me. It also gives me faith in the durability of the shoe. If you try to put on regular tennis shoes without undoing the laces, you can just stomp right in and flatten the back, but these shoes will never do that, which also means they can't be ruined. I can't tell you how much I love this shoe.

Reviewed by Lolita from New York on Sunday, May 25, 2014

Comfortable right out of the box. Went for a run the first day and then on a 6 mile hike with muddy, rocky and slippery terrain. They offer great stability, ankle support and great traction in any terrain. Really waterproof and good, solid construction. Was worried they'd be too hot for the summer but not at all, feet stayed dry and cool!

Verified Buyer

Reviewed by happy feet from virginia on Monday, April 14, 2014

these shoes are true to size and very comfortable. rounded toe allows free movement of long toes. I do not have pointed toes and these shoes are great.

Reviewed by Ellen in Albuquerque from Albuquerque on Wednesday, February 26, 2014

Just received these today. The fit is true to size. They proved waterproof (held under a cold shower for 1-2 minutes). They are comfortable but more stiff than I expected given my everyday comfort shoes. The Mud/Berry color is pretty nice and neutral. Overall, these look like good shoes.

Reviewed by Sheila from PA aka 4 seasons Winter Weather State on Monday, January 20, 2014

I love them! I have the purple/grey color combo and a little dirt will go unseen (: I am a mother of two boys, we practically live outside, and I am active. We live in PA. We pretty much see all 4 seasons in Winter. Therefore we have single digits one week, Florida weather the next and mud until the next freeze! I were these pretty much all the time!

I gave these shoes a 5 star rating because of these Pros:

Lightweight - for the waterproof/trail attributes I would expect them to be this weight. Not really noticeable for me. I am used to med weight footwear.
Waterproof(don't go wading!) - Deeper puddles will get closer to the top of the gusset and get into the shoe.
Material - seems like good quality, they have a fun mix of texture. We'll see how they hold up!
Sturdy - they have nice support over the whole shoe. Not sure what the support is made of, so over time we'll see how well they hold up.
Arch Support - I have a higher arch and I get pain when an arch is TOO high or low. These seem to give my feet great flexibility.
Gription - Grip and traction is GREAT!! I was running a couple day ago in snow and icy roads and they were perfect!!

Cons? None so far, but I will update if something changes.

For the price of these shoes I am happy. If you are willing to pay more you may find a lighter weight shoe with trail/running/waterproof attributes.

On the fence? Go for it!! You will not be disappointed when you go for a run and come back with warm and dry feet!