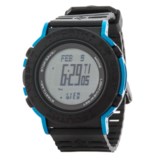 Closeouts. Head out for adventures of all kinds with Columbia Sportswear's Treeline sport watch. With digital functions that tell you everything from altitude to tide locations, your expeditions just got much more informed.
Average Rating based on
10
reviews
3.100000
0
5
Verified Buyer

Reviewed by watch owner from USA on Friday, April 14, 2017

Solid build, so no complaints there. Only thing I don't like is the thermometer picking up body heat, and the back lighting being too dim and too fast.

Verified Buyer

Reviewed by Thom from Colorado on Friday, August 5, 2016

I was excited to get this watch. One major reason was the altimeter. However, the altimeter only goes to 8300ft. The town I live in in 7500 ft. Our old family cabin is at 8300ft. The town near the cabin where we get lunch is 8800ft (Creede CO). Why would an altimeter not even go as high as our brunch spot? Let alone climbing any nearby mountains.

Verified Buyer

Reviewed by Clay the Skier from Portland, OR on Monday, July 25, 2016

Must have been shipped with a dead battery. Rediculous

Verified Buyer

Reviewed by Wyoming Mountain Man from Jackson Hole, WY on Monday, May 11, 2015

This watch would be better if the display letters/numbers were larger; they are way small for the size of the face with much unused space. Also, it took a while to get accustomed to navigating the numerous display items. Nevertheless, it does what is claimed that it will do.

There is a lot of whining about altimeter watches across the internet because they require frequent recalibration to a known altitude but that's just the way it is with barometric pressure based altimeters, so the whiners need to get over it.

Reviewed by Carl the Sierra Man from Lake Tahoe, Sierra Nevada on Monday, May 4, 2015

I received my watch dead. Either completely non functioning or with a dead battery, i can't tell. Big disappointment. I will get a new battery as i can't bother waiting another ten days for a replacement, ill let you know how it went. Maybe STP will reimburse me somehow if its just the battery.


Reviewed by Love Columbia Sportswear from WV on Saturday, February 28, 2015

I love the colors on this watch (I got the black and blue). The description didn't say if it was a men's or women's watch. I had hoped it would be a bit smaller. It is a little big for my taste but I guess I'll get used to it. The features are really neat and easy to use. Overall it's a nice watch.

Reviewed by LTM from Massachusetts on Thursday, December 18, 2014

I needed an altimeter to keep track of my elevation changes when recording them in a journal at the end of the day. I also needed every other setting cause I have no idea what they do and always want to get things that are cool in case I ever need to use them and impress other people.

I got this a few months ago and have tried out the altimeter functionality, compass, alarm, and looked at a few others. The altimeter can be off as much as 10 meters but seems to record change accurately from that base at least. The compass (after calibrating) has given me issues, so I might check it out more, but will be counting on the hand compass I bring more. The alarm is a bit soft, but can wake me at least, and the temp function (has to be off you to get an accurate reading) is convenient.

The buttons are a bit easy to press, especially if trying to wear it with multiple layers for winter hiking; so I will probably end up using it more in the middle seasons. Otherwise, it is a sweet looking piece of machinery and I still like wearing it to work and casually playing around with the functions when I'm bored. Now if only I could remember to check the time on it instead of looking for it on my phone....

Verified Buyer

Reviewed by Ron in Taiwan from Newark, NJ on Thursday, October 16, 2014

I have not used this on the trail yet, so my opinion may change once used. I am mainly concerned with altitude changes when I hike and I think this device will provide me with enough information. It is a bit complicated and the manual has really small type (online version available) that is hard to follow---typical manual. Also has tide information that may be useful to surfers.

Verified Buyer

Reviewed by basemaly from Brooklyn on Thursday, May 29, 2014

Does everything it advertises in style.

Reviewed by Will the Thrill from Virginia on Tuesday, February 4, 2014

The watch is loaded with features. Looks good. Seems to be rugged so far. (just got it) Pretty good price from SierraTradingPost. Only thing I dont like is the temperature accuracy. Even the manual states that the temp will not be accurate when worn. (It picks up your body heat) Maybe there is no real way around that except to minus/guesstimate. Or take off the watch and it will read correctly - if your really needing an accurate temp.

Other then that - pretty cool watch.