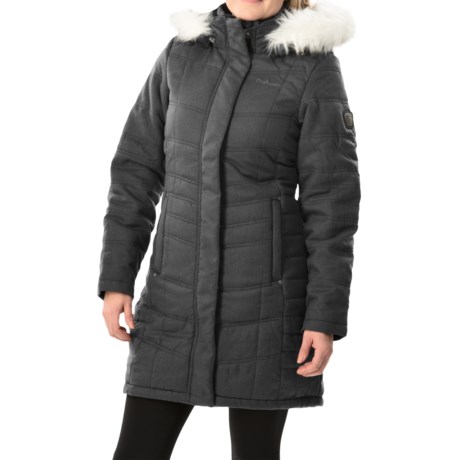 IT'S LIKE A COMFORTER WITH SLEEVES.
Reviewed by Ashley from Wyoming on Friday, December 16, 2016
Will I go to far as to say that this is actually the greatest jacket of all time?

I will.

In my search for a new winter jacket, it had to meet MANY important criteria: Long (because cold butts are just one more horrible side effect of winter), hooded, fitted, warm and stylish. Guys, this jacket checks all those boxes and then some.

For starters, the exterior is SO, so incredibly soft. Literally the first thing I said when I got it was, "THIS FEELS LIKE A COMFORTER. BUT WITH SLEEVES." It's also got a really subtle herringbone design that I love.
The picture doesn't do the immensity of the faux-fur ruff on the hood ANY justice. Like, that sucker does not kid around. It's large, and in charge, and also really warm. (It also comes off, if that's not your thing.)

I've worn it in two really horrible winter days so far - blowing snow one day, sub-zero temps the next - and not ONCE did I feel even a little bit cold.

The pocket situation is pretty cool; I have a Galaxy S6 and it fits into the stretchy "mobile phone" pocket that's inside the right hand pocket, and there's this cool "heat-reflecting" material in the lining that really does keep my hands warm.

The only downsides I've found are that the two-way front zip is a little hard to get "started" and zip, and the pockets sit weird when you're seated and move the contents around in a sometimes-uncomfortable way.

But overall, oh my GOSH this jacket wins all the wins. Easily the best $100 I've spent in a while.
Most helpful positive reviews
Most helpful negative reviews
Similar items and more information in the following areas: