Craghoppers Reviews

Popular Craghoppers Products

Popular Craghoppers Searches
The story of Craghoppers World Travel Clothing began in 1965 when a group of friends from Yorkshire, England started planning a trip to climb Mt. Everest. At the time, options for dependable, high-performance outerwear and apparel were pretty scant. Rather than settling for less than adequate gear, the friends decided to create their own, and the Craghoppers clothing company was born. Half a century later, Craghoppers jackets, pants, shorts and shirts are still helping people bag summits and stay comfortable on their adventures all across the globe. With features that range from lightweight, U
... Learn more about Craghoppers
V-resistant fabrics to Insect Shield® bug repellency, Craghoppers clothing is designed to get outdoors and go places. ... Less
About the Craghoppers Brand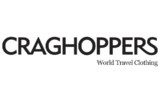 Verified Buyer

Reviewed by Macandsam from Spokane on Sunday, August 28, 2016

I ordered up a size and that worked out just fine. The color was attractive and the fit was stylish. However, it is not the typical UPF quality that I am used to (I love Columbia brand). I initially kept it and put it in the wash. I did not like the result. I felt it needed touch-up ironing. I had to return it.

Verified Buyer

Reviewed by St Paul from St Paul on Sunday, August 28, 2016

This is cute and could be right but runs really small.

Verified Buyer

Reviewed by Tyler Durden from Aridzona on Friday, August 26, 2016

These are great all around. The only complaint I would have is that they're cut so that the area right above your knee is constantly dragging on the material. I know this doesn't make sense, but you'll see what I mean if you buy a pair.

Verified Buyer

Reviewed by Tyler Durden from Aridzona on Friday, August 26, 2016

This is well made, and cut with an athletic fit. The problem is I have wide shoulders, so I can't lift my arms in this shirt due to the narrowness through the shoulders (I ordered a large).

Verified Buyer

Reviewed by Bcm01 from Albany NY on Thursday, August 25, 2016

While the pants appeared to be well made the size was mislabeled. The pants were labeled as a size 36. However, the waist measured only 34" and were returned.

Reviewed by Vinny from New York on Tuesday, August 23, 2016

Love this shirt. Wore it frequently on safari and found it to be great for the cold mornings, and light enough for the warmer afternoons. The buttons add a nice touch, if a little confusing to jet-lagged minds. Stretches beautifully making it ridiculously comfortable. Highly recommended.

Verified Buyer

Reviewed by kathead from Colorado on Monday, August 22, 2016

I got the white shirt, which is great for hot sun. Very light weight quick-dry material. Fits well with enough extra room so it doesn't bind but it's also fitted enough to look nice.

Verified Buyer

Reviewed by Average from Washington on Tuesday, August 16, 2016

Looked like good quality, just too big to wear

Verified Buyer

Reviewed by Bella from Colorado on Sunday, August 14, 2016

I bought these for traveling and wish I could have got 2 pairs/colors. Incredible price, great quality. Multiple large pockets that actually zip closed which is great for traveling. These do fit big- probably up a full size. I knew that when ordering and am happy with the fit. I normally fit in 18's as a loose comfortable fit. I ordered 16's and they fit looser than my 18's. I washed and dried them and they now fit perfectly. I love the material. Soft, lightweight, but enough to keep warm in 50 degree weather. Looks good with casual shirts and easy to dress up.

Reviewed by BKTvet from Chattanooga, TN on Wednesday, August 10, 2016

These pants are a nice combination of lightweight but durable material. These pants are a little slim fitting, and I had to order a larger size. Normally I wear size 38 so I ordered 40s. I took 2 pairs on a trip to Costa Rica. I was working in some tall thick brush during the rainy season. At the end of the day these pants still looked great, no scratches or snags, and no bug bites.