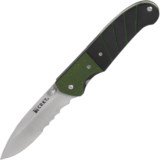 Closeouts. Featuring the innovative OutBurst assisted opening and FireSafe locking system, CRKT's Ignitor folding pocket knife packs custom-made quality, high-tech features and dependable performance into a comfortable pocket size.
Average Rating based on
7
reviews
4.428571
0
5
Reviewed by Pete from Scenic NJ. on Friday, December 25, 2015

I carry either an Emerson or a Victorinox One Hand Trekker every day.
IF you are wearing gloves, this knife is useless.
I bought it to try the Veff serrations which seem very well designed.

IF I hadn't had to mangle the packaging to open to get the knife out, I would be returning it.
As it is I will add it to my next troop donation box with a not that it go to a right handed user.

Verified Buyer

Reviewed by Backpackin' Dave from Northern California on Friday, December 4, 2015

Lightweight, sharp, no detectable "play" at the anchor point of the blade.

Verified Buyer

Reviewed by Vetterun from Oklahoma on Saturday, November 21, 2015

If you are going to carry something every day, it should earn its keep. The CRKT Ignitor Folding Pocket Knife does just that. The design feels good in the hand like a well-made tool should. One hand operation is an indispensable feature, unless you are one of the lucky few born with four hands. Blade features and edge mean you can cut most anything. I have never had to exercise the CRKT lifetime warranty, but it says a great deal about the company's products and confidence in the same.

Verified Buyer

Reviewed by Ethan B. from Oklahoma on Wednesday, December 31, 2014

I purchased three of these knives to give as gifts this year but I was so impressed with this knife I kept one for myself. I put my old Kershaw Blurr against the Ignitor in a cut test on a piece of half inch heavy duty hose. The Ignitor won hands down with its Veff serrations. The Ignitor cut through the hose effortlessly where as my Blurr took several attempts and effort. The serrations on the Blurr are nice but the Veff serrations are the best serrations I've ever used on a knife. I use my knife everyday on the job to cut everything from heavy duty high pressure hose to cardboard, I have no doubt this knife will handle it all. The Ignitor feels good in the hand and its "Out Burst " assisted opening is very nice with good solid lock up every time. The only problem I can see with this knife is that it is a tip down carry and right handed only knife. The clip can not be changed to carry tip up also it can not be changed to carry left handed. There is a fire safe button on the thumb stud that has to be pressed to open the knife which can only be done right handed. Although for right handed people this knife opens in a flash even withe the fire safe thumb stud. I find no problems opening this knife what so ever. Although I'd rather carry tip up I'm looking past that to everything else this knife has and give it a full 5 stars....

Verified Buyer

Reviewed by Harry the Hiker from Virginia on Wednesday, October 22, 2014

I was looking for a less expensive knife after losing my overpriced Spiderco knife on a camping trip. I found this knife for a great price on Sierra and got it, not expecting much considering the cost. I was very pleased when it arrived. The design and build quality are exceptional and certainly on par with the Spiderco knife that cost me four times as much. The OutBurst system works great and is very intuitive. Highly Recommended!

Verified Buyer

Reviewed by Whitney from Louisville, KY on Wednesday, August 13, 2014

I haven't used it yet, but it feels well made and sharp. I needed a good knife for camping and this seems to be exactly what I needed.

Verified Buyer

Reviewed by wisconsin gaedfly from tomahawk, wi on Saturday, July 19, 2014

love this knife. feels great in the hand, and the "outburst assisted opening" is smooth and fast. will be a great tool around the campsite and also a very capable hunting knife.