Offering a cutting-edge line of hunting knives, tactical knives, multi tools, pocket knives and survival knives, Columbia River Knife and Tool is an Oregon-based manufacturer founded in 1994. Created with many of the most advanced equipment and production systems available in the industry today, CRKT knives are an investment in preparedness and survival. Featuring top-quality stainless steel for an incredibly sharp, durable cutting edge, each CRKT knife is carefully forged, sharpened and inspected in order to provide superior reliability and versatility. When you choose a CRKT knife, you can f
... Learn more about CRKT
eel confident that you're getting a product that will exceed your expectations in more ways than one. ... Less
About the CRKT Brand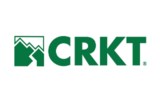 Verified Buyer

Reviewed by TNG from VA on Tuesday, September 27, 2016

This knife has some nice weight to it and should serve me well. It was not sharp out of the box but I can put an edge on it and we shall see how well it holds that edge.

Verified Buyer

Reviewed by Jadaty from Coastal NC on Monday, September 19, 2016

Well made, comfortable, and a great buy!

Verified Buyer

Reviewed by Matt from Mississippi on Wednesday, June 29, 2016

Just what I ordered

Verified Buyer

Reviewed by Dennis from California on Saturday, March 12, 2016

This is my first folding knife, and I must say I am quite impressed. It is really sharp out of the box (sharp enough to shave), and extremely light. I feel it will be very useful in the bush.

Reviewed by Flyfisher1956 from Fayetteville, Arkansas, U. S. A. on Wednesday, February 24, 2016

This is a nice knife. The assisted opening works very well. I had no issue with the quick opening. The clip works well. The blade itself is very sharp, and I do not mean maybe! The onliest issue may be just because my hands match my feet, which are huge. I am right handed so I carry the knife in my front right jeans pocket. When going for keys the thumb assist digs into my hand. While it is not pain, I have never had this happen with a quality knife before. I am keeping the blade and overlooking the minor issue. Oh yes, great price from STP.

Reviewed by Donald horseman from Sweet Idaho on Wednesday, February 17, 2016

I have dozens of pocket knives and this is the one I carry daily. I removed the clip, not necessary and gets in the way. I feed my horses hay and I use my knife to cut the baling twine. I have been using this knife every day for months and it is still as sharp as day one. Sticking a knife into a bale of hay to cut the string means you are cutting through alfalfa hay stems and string, doing this for months would take the edge off an average blade. I live in the country, open range country, on six acres and a good knife is essential. I wrote this review as a counterpoint to some of the negative ones, I bought three thinking I would give one or two as gifts, I am keeping all three because I have lost pocket knives before and this is a keeper.

Reviewed by Product Specialist Greg from Florida on Tuesday, February 9, 2016

Lightweight EDC that handles good. The deployment on the blade takes some getting used to but practicing with it is half the fun. Great quality as always from CRKT and fast shipping from Sierra Trading !!

Verified Buyer

Reviewed by Porcupine from WNC on Monday, February 8, 2016

I thought the locking feature was going to be something new and improved. It is just a redundant gadget for someone that might be worries about the lock failing. Kind of a waste of space but otherwise a decent knife.

Verified Buyer

Reviewed by The River King from Georgia on Monday, January 11, 2016

Very nice knife for a great price.

Verified Buyer

Reviewed by Fish24/7 from North Carilina on Saturday, January 9, 2016

Well built and good blade. Takes a little time to break in so it opens easily. Pleased with the purchase.