Crow Canyon

Colors

Reviews

Events

Prices

Search Within
Ready for something a little different in the kitchen and dining room? Have you considered the benefits of owning your own enamelware? Crow Canyon offers one of the largest selections of enamelware in North America and has been providing customers with outstanding quality products for more than 35 years. Crafted to offer maximum functionality, versatility and stunning aesthetics, all Crow Canyon enamelware is designed to be used in the oven, on the stovetop (gas or electric) or on the grill. Extremely durable and affordable, Crow Canyon cookware and bakeware is also dishwasher safe. Try some f
... Learn more about Crow Canyon
or yourself, and we think you'll be a fan. ... Less
About the Crow Canyon Brand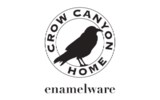 Compare at $35.00
Closeouts
Regular $12.95
Compare at $24.00
Closeouts
Regular $16.95
Compare at $28.00
Closeouts
Verified Buyer

Reviewed by Amora Cat from Pennsylvania on Tuesday, July 5, 2016

This bowl is durable and looks great for serving. Good purchase.

Reviewed by WY from WY on Tuesday, May 31, 2016

Great enamel pot but without a perculator isn't it just a tea kettle?

Reviewed by Berynice from Long Beach on Saturday, May 7, 2016

Although these were packed decently with a wrap around each individual plate two of three arrived chipped and the third chipped when I dropped it. I have lots of enamel ware and it doesn't chip that easily. If they didn't chip they'd be wonderful - but I use them in the garden now - not worth it.
Receive email updates for new Crow Canyon items