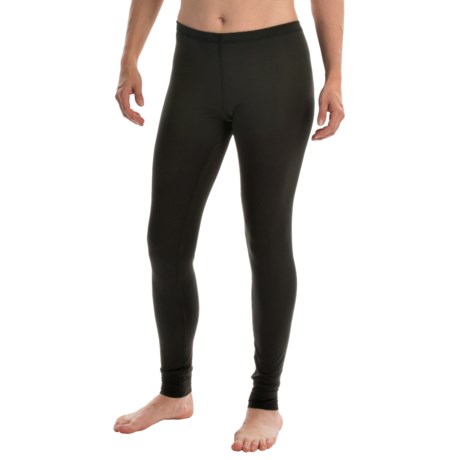 *not* 'leggings'
Verified Buyer
Reviewed by mh from mn on Tuesday, December 13, 2016
the quality and fit are good; i would have rated these higher if they'd been real leggings--but they're not. i knew that Cuddl Duds is known for base layer [aka 'long underwear'], but the two terms 'ActiveTech' and 'leggings' imply that these are not underwear. i thought perhaps that just meant Cuddl Duds was capitalizing on the legging trend, branching out into the athleisure ware market, but no. don't let the athletic-sounding name fool you. the stitched band/cuff [3 or so rows of stitching] at the ankle screams 'long underwear' and i can't imagine anyone wearing these in public.
so i think the name 'ActiveTech leggings' is misleading, but i also blame stp for the lousy photograph. it's miniscule, dark and blurry. if it had been bigger, brighter, had sharper resolution and was zoomable, i could have seen the finishing at the ankle and would not have ordered them. i really, *really* hate it when businesses don't bother to provide clear images, because that means 9 times out of 10 i end having to pay for return postage and waste time and gas to get to the post office and back. i'm making an issue out of it because i'm finally fed up.

i am going to request that i be reimbursed for return postage, and i hope the rest of you do, too, if you're also fed up. maybe if enough people complain, stp will finally get the msg and give us better photos. these leggings are gray, not black, so i should have been able to see some detail. instead, there is only the one small photo and it is solid black--all you can see is the silhouette of the person's legs.
stp could also have clarified in the product description that this is an under layer, not leggings. i called cs to ask before ordering, but they were closed. [with only weeks until christmas??] no available cs plus poor images plus outrageous shipping fees = serious bones of contention for me. since stp was offering free shipping over thanksgiving [shock], i decided to go ahead and order because i had no idea how long it would last.
i realize some might say 'you don't have to order from them, you know,' and they'd be right; i don't. and i won't after this, if no improvements are made.
Most helpful negative reviews
Similar items and more information in the following areas: