DaKine Boot Locker Boot Bag
Item #3862Y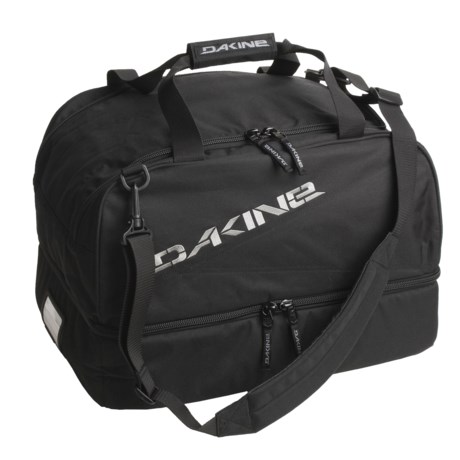 Sorry this item is not yet available for sale. Please check back at a later date.
Overview
About DaKine Boot Locker Boot Bag
Closeouts. Changing boots in dirty parking lots just got easier with DaKine's Boot Locker boot bag. A tarp-lined boot compartment doubles as a changing mat to help keep those socks clean.
Accommodates ski or snowboard boots
Boot compartment zips out flat for use as changing mat
Drain holes in boot compartment
Split-level design features separate clothing compartment
Padded, adjustable shoulder strap
Dimensions (LxWxD): 13x22x15"
Capacity: 4200 cu.in.
Weight: 2 lb. 6 oz.
Material: 600 denier polyester and 300 denier polyester
Made in China
Question & Answer
You could not fit two pairs of boots in this bag, especially with any accessories.
About DaKine
Based in Hood River, Oregon, DaKine has been cranking out virtually indestructible luggage, backpacks, hydration packs and clothing for more than 30 years. Built tough and always stylish, DaKine luggage, messenger bags and packs help you stay well-organized and won't fall apart after a few trips through the airport or a couple semesters of truckin' across campus. Whether it's time to hit the singletrack or the ski slopes, DaKine backpacks, hydration packs, cycling shorts, jerseys and jackets are all engineered to perform in challenging conditions. If you demand the most from your action sports equipment and apparel, we think you'll be impressed with DaKine gear.