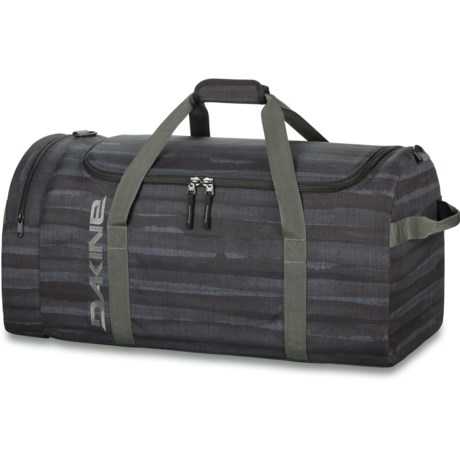 I would tend to error on the side of caution and say no. In a pinch sure but not on a regular basis, the fabric is just not that sturdy.
Great bag for summer camp and gymnastics practice but not ready for baggage handlers.

Yes. I've had this bag since the beginning of June and use it as my sports bag (just community sports so it's small-ish).
It's been thrown in my car, on the ground, dragged across fields, etc. and held up just fine. the material isn't soft, it's rough and takes a beating. the strap are padded and there are several handles which makes it easy to grab and transport. also the two main handles velco together which should provide additional support.

Now I say it's small-ish, don't let me ocnvince you it's too small for you needs, here's what I have in it today:
1 pair ofs hin guards, one pair of cleets (size 9 women's), two spare shirt, 2 pairs normal socks, 2 pairs soccer socks, small bowl for dog, and small tupper ware of treats for her, soccer ball, softball glove, water bottle, sunglasses, wallet and keys. It's no stuffed, but it also doesn't have too much room left in there. It would work well for a weekend trip. Hope this helps!

I've had mine go through baggage handlers a couple of times, and it still looks great.