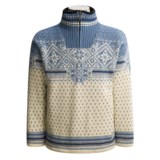 Closeouts. Built by Dale of Norway, a company who understands extreme mountain weather, the Savalen pullover sweater is crafted out of completely water-repellent wool and lined with Windstopper® fabric.
Comfort fleece collar
Neck zip: 6-½"
Length: 26" (based on a large)
Fabric: New wool
Lining: 83% polyester, 17% PTFE
Weight: 3 lb.
Care: Hand wash, dry flat
Made in Norway

Unisex sizing, women order one size smaller.
Average Rating based on
19
reviews
4.736842
0
5
Verified Buyer

Reviewed by Scott from Charleston, WV on Tuesday, March 6, 2012

The fabric, color and pattern are great, but I don't understand the sizing and cut of this sweater. It is marked as "for men and women". When I ordered the size that I usually wear, the sleeves come to midway between my elbows and wrists, while the chest and torso size was wide. Of course I am returning it. I don't know what kind of a person this would fit.

Chest Size: Feels too big
Describe Yourself: Trendy/Stylish Dresser
Length: Feels too short
Pros: Great Color, Warm
Sleeve Length: Feels too short
Was this a gift?: No

Verified Buyer

Reviewed by Trendy Grandma from Suttons Bay, MI on Monday, February 20, 2012

The sweater is absolutely gorgeous! It is a unisex size and the xs fit perfectly, I usually wear a small in ladies. The only drawback was the sleeves. They were way too short. You would need to have very short arms to wear this. I had to send it back, much to my chagrin.

Best Uses: Casual Wear
Chest Size: Feels true to size
Cons: Poor Fit
Describe Yourself: Casual Dresser
Pros: Comfortable, Flattering, Great Color, Warm
Sleeve Length: Feels true to length
Was this a gift?: No

Verified Buyer

Reviewed by JD SKI from Mountains north of Tahoe on Monday, November 14, 2011

Dale makes the best sweaters. This is my second and it is perfect for many occasions. Wind stopper and wool have such a great temperature range. I wore it all last weekend in Reno and I was comfortable inside or outside. My wife said aren't you hot. But the wool regulates so well I did not have to take it on and off. My other Dale is a little heavier duity and I ware it skiing in all kinds of weather. In deep powder the sweater will be covered in snow and I am not hot and sweaty like Gore tex would cause. It breaths. Love it.

Best Uses: Casual Wear, Date Night/Night Out, Special Occasions, Wear to School
Chest Size: Feels true to size
Describe Yourself: Classic Dresser
Length: Feels true to length
Pros: Comfortable, Flattering, Great Color, Stylish, Versatile, Warm
Sleeve Length: Feels true to length
Was this a gift?: No

Verified Buyer

Reviewed by Frequent Buyer in Santa Fe from Santa Fe, NM on Tuesday, October 11, 2011

Another Dale of Norway to add to my collection (all from STP!). Lined with wind-stopper fabric, it's a great sweater on its own to wear without a coat. Add an outer coat and you're completely protected, maybe even too warm! Quality wool, great construction, outstanding Nordic designs, as always. Comfortable, poly fleece lined at the neck for no-scratch wear. Versatile with jean, ski pants, slacks. Thanks again, STP!

Best Uses: Casual Wear
Chest Size: Feels true to size
Describe Yourself: Classic Dresser
Length: Feels true to length
Pros: Comfortable, Flattering, Great Color, Stylish, Warm, Water Resistant, Wind-stopper
Sleeve Length: Feels true to length
Was this a gift?: No

Verified Buyer

Reviewed by Opinionated Shopper from Boston, MA on Monday, October 10, 2011

Awesome sweater. Instant classic. Great for layering or as an outer layer. I own two in different colors.

Best Uses: Casual Wear
Chest Size: Feels true to size
Describe Yourself: Classic Dresser
Length: Feels true to length
Pros: Comfortable, Flattering, Great Color, Versatile, Warm
Sleeve Length: Feels true to length
Was this a gift?: No

Verified Buyer

Reviewed by BlackDog from Alton Il on Wednesday, September 28, 2011

Gift for wife; she has seven other Dale sweaters and loves them all. I've noticed recently that some are listed as not being made in Norway.

Best Uses: Casual Wear
Chest Size: Feels true to size
Describe Yourself: Classic Dresser
Length: Feels true to length
Pros: Comfortable, Flattering, Great Color, Soft, Versatile, Warm
Sleeve Length: Feels true to length
Was this a gift?: Yes

Reviewed by Trekker Forrest from Lexington, Ky on Sunday, September 11, 2011

This is the world's greatest sweater. I own two, one in red and black, one in blue. I wear them skiing, shovelling snow, walking to the classes I teach, sledriding and walking the dog. They protect against wind, snow and even ice rain. I've bought them both from Sierra at about half the list price. I've had the one five years and it looks brand new.

Best Uses: Casual Wear, Wear to School
Chest Size: Feels true to size
Length: Feels true to length
Pros: Comfortable, Flattering, Great Color, Soft, Stylish, Warm
Sleeve Length: Feels true to length
Was this a gift?: No

Verified Buyer

Reviewed by classy lady from calgary, alberta on Monday, June 27, 2011

I had bought my husband a Dale of Norway windstopper jacket which he loved - wore it by preference most cold winter days this past winter season. I will note that the Dale sweaters that say 'for women or men' tend to be on the small side both size & length wise. Based on this I ordered this sweater & it fits me very well. Our winter weather has enough very cold & windy days to ensure I will be able to use this sweater & enjoy being toasty warm. Note: if you are a long bodied tall woman or man try a Dale product that is specific to men only or women only sizing rather than the unisex line or you may find the product too short in the body or arms.

Best Uses: Casual Wear, Winter weather
Chest Size: Feels true to size
Describe Yourself: Classic Dresser
Length: Feels true to length
Pros: Comfortable, Flattering, Great Color, Stylish, Warm
Sleeve Length: Feels true to length
Was this a gift?: No

Verified Buyer

Reviewed by J from Clinton, CT on Sunday, October 17, 2010

Great sweater at great price - very warm

Best Uses: Casual Wear, Date Night/Night Out, Special Occasions, Wear To Work
Chest Size: Feels true to size
Describe Yourself: Classic Dresser
Length: Feels true to length
Pros: Comfortable, Flattering, Great Color, Soft, Stylish, Warm
Sleeve Length: Feels true to length

Verified Buyer

Reviewed by Geezer from Seattle on Saturday, September 25, 2010

More of a jacket than a sweater. Will be perfect in my Seattle climate for outdoor wear Autumn, Winter, and early Spring. I'm between a medium and a large: the large fits me well. Runs close to the body in fit.

Best Uses: Casual Wear, Date Night/Night Out, Nice to be warm and dry, Special Occasions, Wear to School, Wear To Work
Chest Size: Feels true to size
Describe Yourself: Classic Dresser
Length: Feels true to length
Pros: Comfortable, Flattering, Great Color, Warm
Sleeve Length: Feels true to length