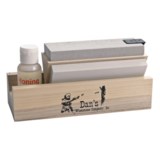 2nds, barely perceptible blemishes. This knife sharpening kit from Dan's Whetstone features a tri-hone system, utilizing one coarse carbide stone, one soft Arkansas stone and one hard Arkansas stone to suit all of your sharpening needs.
Average Rating based on
24
reviews
4.708333
0
5
Reviewed by slaboc from Adirondack park on Thursday, April 7, 2016

No complaints here.good stuff all the way around.AMERICAN MADE YA

Verified Buyer

Reviewed by Derek the hunter/camper/hiker from Near Saint Louis Mo on Thursday, March 10, 2016

Great product, great price, speedy delivery equals happy outdoorsman.

Verified Buyer

Reviewed by Dkhntr from Arkansas on Saturday, January 16, 2016

Bought two for gifts. I like the elevated position of the stone you are using. Good size for blades in 3" to 6" range.

Verified Buyer

Reviewed by stiffknees from pa on Wednesday, December 2, 2015

bought this same design many years ago this product has stones that are a little shorter than the older product but they still do a fine job

Verified Buyer

Reviewed by TexasTom from North Richland Hills, Texas on Tuesday, May 20, 2014

This is the first knife sharpening kit I've seen that is complete. My grandfather, who was born in Finland, Learned how to sharpen knives using the three stone method. He did not use honing oil, instead, he used his spit! That man was a master. Although he worked in Coal Mines and Steel Mills all his life, He kept the Finnish customs for knife sharpening, etc... He would sharpen all the knives my grandmother had every Thanksgiving morning, every year. To continue my story, My grandfather would only use the stones that he needed to get a given knife to a razor sharp edge. I watched him work for hours on Thanksgiving morning. Every time he finished with a knife, he asked me to hold up a piece of newspaper so he could test the sharpness of the knife. I held the newspaper up to him as high in the air as I could. He then would cut 1/2 inch strips of the news paper, on an angle, all the way down to 2 inches in front of my fingers. If ever there was a rough place he found, anywhere on the knife blade, he went back to the stones and sharpened the knife again to his satisfaction.

This kit replicates my grandfathers methods, if used properly. I purchased three kits, one for my son, one for my son-in-law, and one for me. I gave both boys a lesson and watched them perform. Now I've passed down a Finnish legacy to my boys. I am truly proud and happy that I found this sharpening set on Sierra.

Reviewed by wncmountainboy from North Carolina on Saturday, January 18, 2014

Gets the job done well at an affordable price. Perfect size for pocket knives and small fixed blades...you'll have problems though with larger blades i.e. culinary knives, but I like how compact it is. Considering how affordable it is I gave it 4 stars, would have gotten 5 if it could accommodate larger blades.

Reviewed by Anonymous from Maryland on Wednesday, January 1, 2014

I was a bit skeptical to begin with, but I soon found that this is a great stone system to take with me on trips. I'm the guy that all the relatives call to sharpen their knives that look like they've been cutting cinder blocks with the year before. Unless you're starting with a knife with a very bad edge you'll only need to use the medium and fine sides.

Reviewed by jmoore00 from mississippi on Monday, April 29, 2013

best one i've seen. works well if know what you are doing. that's where dan sadly sucks. instructions to use this contraption are more impt than the sharpener itself. instructions enclosed are an embarrassement. now that i consider, i think a 4 star instead of 5 may be the only way to get pointy-headed arkansas dan to correct the problem. you can make a mediocre knife exceptional with masterful sharpening, or you can completely destroy the blade if you attempt to adhere to dan's present shoddy instructions (which had to have been written in mainland china). the honing oil is wn the roadtotally inadequate volume-wise. may need to buy a separate container, but i'm sure ole dan realizes that. if run out, use baby oil, nothing of thick consistency as it will "gum up" the sharpening stone. disappointing thing is that dan has a really great and unique product, but he will get few return buyers with his less than poor efforts on instruction. i'd be in much distress if it were not for the most noble illiterate red neck down the road who can weld, plumb, run a dozer, fix electrical circuits, make central air come to life, and also sharpen a knife to cut SINGLE sheets of paper (cause he can't read dan's abysmal instructions. thank the LORD for illiterate rednecks who seem capable of doing anything !!

Reviewed by Kenny the Hitchhiker from Nor Cal on Wednesday, April 17, 2013

Works very well, sturdy, fun to use. Makes a sharp knife.

Reviewed by db from PA on Friday, March 8, 2013

Great price for the set. Saw no apparent blemishes. I think stone labled soft was switched with the one labled very fine.Took a chance on a second and made out ok.