Made according to a long-standing heritage of quality, Dan Post boots are well-known for combining only the best materials with "Handcrafted Cushion Comfort" for nearly half a century. From traditional cowboy boots to modern western work boots, Dan Post footwear is built from the sole up to provide an exceptional fit, unbeatable durability and all-day comfort. Available in a wide selection of styles and materials -- from exotic leathers like full-quill ostrich and caiman to more classic looks -- Dan Post boots are equally at home working on the ranch, out riding the trails or cutting loose on
... Learn more about Dan Post
the dance floor. ... Less
About the Dan Post Brand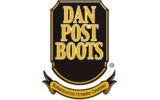 Verified Buyer

Reviewed by JKintheNW from Northwest US on Tuesday, August 23, 2016

Great deal on a very comfortable pair of boots!!! I had no break in period and I spent 8 hours cruising Nashville on my feet! Loved these boots! I always blister in new shoes and not even a rub!!! Fit true to size even with my wide feet! I am now a Dan Post convert!!!

Reviewed by New York shopper from New york on Tuesday, August 16, 2016

This belt is high quality. Well worth the money....runs small. Size up. Can't wait to wear it!

Verified Buyer

Reviewed by The Outlawyer from SWVA on Monday, August 15, 2016

adequate and inexpensive

Verified Buyer

Reviewed by Suzanne from Charleston on Sunday, August 14, 2016

Had not found this boot when I searched, but when I contacted customer service to return another boot of same brand and color, the service rep steered me to these. I couldn't be happier! This boot is even better than the one I originally ordered (that didn't fit right). Great quality - I could smell the new leather as I cut open the plastic packaging. A small detail that I LOVE when I order a new boot. True to fit, very comfortable, great color and detail.

Verified Buyer

Reviewed by Elizabeth from Wisconsin on Wednesday, August 10, 2016

Fit perfect. The first time I wore these - a full day and walking at our state fair! Very comfortable. Great style. I don't really care for the fabric of the cross.

Verified Buyer

Reviewed by Born Montanan from Colorado on Tuesday, August 9, 2016

The boots met our expectations, and for an awesome price!

Verified Buyer

Reviewed by Girl loves cowboy boots from PA on Friday, June 10, 2016

Nice looking boot but workmanship issue with the heel. I own the Dan Post Liberty boot same style boot and it is great. Bought from a retailer in store. My thoughts are this company either buys factory Seconds from Dan Post or maybe a fluke. I don't like to return items ordered on line because it is a pain and cost extra to do so. Bottom line these won't be worn as much as Liberty

Verified Buyer

Reviewed by Unzie from Montana on Friday, June 10, 2016

I first ordered these boots, based on a customer review that the ran towards the wide side, in the standard width and found them to be very tight on the left and right foot, particularly in the arch section. S.T.P. was excellent in dealing with me on a return for the proper size. Upon receiving my exchange boots, it turned out that they were a bit tight in the arch as well, but a much more comfortable fit. The boots are well made and very handsome looking. My feet are two different sizes, but run wide in most boot manufactures. Overall I am very satisfied with the boots and with Sierra Trading Post's customer service!

Verified Buyer

Reviewed by 3dvizwiz from Boulder, CO on Monday, June 6, 2016

The fit was fine (true to size), but wow, the conchos are really big - they are almost 4" from top to bottom. The good news is that they scoot around on the belt pretty easily, but I still couldn't quite find a configuration that I liked, so mine was returned.

Verified Buyer

Reviewed by Chris B. from Bakersfield, CA on Wednesday, June 1, 2016

I bought the Dan Post Ostrich Leather belt in the color of black to match a pair of boots. Honestly, at the price Sierra Trading Post was selling it, I didn't think the quality would be all that great. I was wrong. This belt is a great value and it looks tremendous. The buckle is fantastic too. It has great detail in the metal and has considerable weight to it. This is a outstanding belt for the money!