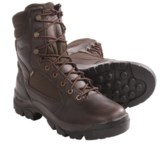 Closeouts. When conditions are wet and the terrain is rugged, Danner's Big Horn Gore-Tex® boots provide reliable traction and waterproof breathable protection.
Average Rating based on
9
reviews
3.222222
0
5
Verified Buyer

Reviewed by Jeff, the hunter from WV on Wednesday, November 26, 2014

A little tight around the foot, Hopefully, the leather (pleather) will cause them to stretch out a little

Verified Buyer

Reviewed by HikeTeach from missouri on Wednesday, November 19, 2014

Lightweight and comfortable. Does not have a very high arch and does not include the Danner Airthotic insoles as in the past. I worry a bit about longevity for boot that is this lightweight.

Reviewed by Doc from Humboldt County, Ca. on Saturday, September 6, 2014

Just as an aside, Danner is now owned by Redwing and the boots are made in Salt Lake City, Utah. They're not the Portland, Oregon, company we all came to know and love anymore. I can remember the days when you had to send Danner a traced outline of your foot to order boots.

Verified Buyer

Reviewed by susurrus from North Dakota on Friday, April 18, 2014

I bought these boots in a 1/2 size larger because of narrow width complaints from other reviewers, but I had to re-order because they were too long. Correct size is definitely narrow, mainly in the mid-foot/arch, but I wanted a tight boot so I wore them uncomfortably for 2 days and they've now broke in just fine (for clarification, I have a somewhat wide foot and a low arch).

My main complaint is that the boots are very flimsy. Walking on sidehills was almost as bad as walking on a sidehill in sandals because the ankle of the boot has very little/no support. These are definitely not a hiking boot, and will not be the best for my kind of hunting in the fall. Also, there is some padding in the back of the boot that is sewn in with a seam 1/4" above the sole at the heel of the boot. That is the worst spot for a seam, and I had to duct tape my heels; we'll see if that continues now that the width has stretched out a bit.

On a positive note, these boots are light an sleek with good soles and leather. I was looking for a taller boot to keep dust and debris out of my socks, but wanted something that fit like a light hiking boot (i.e. not clunky), and these are 1/2-way what I was looking for. For work boots or for slower-paced spot-and-stalk bowhunting, I plan on using these boots because they're light, quiet, and keep debris out.


Reviewed by ztwoods from Minnesota on Wednesday, March 26, 2014

I usually wear a normal width shoe but after reading the reviews I ordered EE. The boots were a little tight at first but after a few miles they broke in nicely. If you order make sure you order the a wider boot than you normally would.

Reviewed by Prohunter .270 from North Dakota on Sunday, March 2, 2014

Very disappointed as these boot run extremely narrow. Ordered size 10 1/2 D could hardly get them on. The length was fine. Ordered the 10 1/2 EE thinking they would fit....was I ever wrong. Still too narrow and the right boot was so much smaller than the left that the insole was bunched up in the boot and I could not get it lay correctly unless I trimmed a substantial amount off. Which would have been futile considering that that boot was so ill fitting to begin with.

Reviewed by culdares the motorcyclist from Indiana on Wednesday, February 19, 2014

Like the earlier reviewer, these boots are very tight. I take a Medium and bought the EE as that is all there was and they were still too tight. I guess they would have stretched, but there was another issue - walking in them felt like walking in sky boots. The soles/shank were super stiff and the design of the tread made them roll a bit when walking. All these issues would have worn in or softened up in time, if unlike me, you wanted to give them time. If you have a wide foot, do not buy. If you don't I would consider these. The plus side is that they are reasonably light, a nice quality leather, very well made and look good.

Reviewed by Deleted from Upstate NY on Wednesday, February 19, 2014

Danner has been the best boot company I have purchased from. Danner kinetic gtx 6" for work. These bighorns are great so far.

Reviewed by Hunter Gatherer from North Carolina on Friday, February 14, 2014

I've never worn wide shoes, but couldn't even get in these so I returned and tried the EE wide. Even the wide ones were so narrow, they have to go back too. I've worn Danner Pronghorn snake boots for years but I have to say, the quality and consistency of Danner have gone away since they moved to China. I had to return my Chinese Pronghorn snake boots 3 times for various reasons from leaking to generally poor quality. I gave up on Rocky years ago for the same Chinese reason. I don't mind paying for quality, but you won't find it with anything shipping out of China.