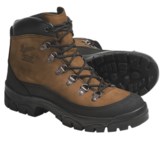 Closeouts. Designed to take on the toughest terrain and conditions the U.S. Army encounters, Danner's Combat Hiker Gore-Tex® military boots are extremely durable and completely waterproof breathable.
Average Rating based on
84
reviews
4.142857
0
5
Reviewed by jagd1305 from Gulf coast on Monday, September 14, 2015

I was given a pair of these when the army started phasing them out of inventory. Good stiff leather upper that takes a bit of use to break in. The rubber in the soles has excellent traction but the rubber is a bit soft so I could see why they didn't handle the sharp mountain rocks of Afghanistan well. These boots are a very manageable light weight and have excellent waterproof values. I found the sizing a bit small so I would recommend a half size larger and possibly the same for width.

Reviewed by Mo from Uz-Stan on Saturday, February 28, 2015

At the time of purchase I was worried with the reviews stating that the Crater Rim/CH's were narrow but still went with my normal 8.5R. I always wear a 8.5D in my Asics. I'm glad I went with the 8.5R because they fit perfectly and I don't consider my feet particularly narrow. My feet measure 3 and 1/2" at the widest and 10 and 1/4" lengthwise. Hope my measurements help because they would have helped me decide. The boots are a bit stiff but any good boot is and I feel like they will break in well.

Side note: the laces have not been a problem for me they tighten very well and stay torqued the way you want.

Reviewed by tonyc from California on Sunday, February 15, 2015

I fish, and live the outdoors. I heard of danner but never owned a pair. About one year ago I found a new pair of danner combat hikers at a swap meet and paid 10 no brainer. These are the best boots ever and I have owned quite a few pair. Great fit and look. Mine are size 9.5

Reviewed by STP SW Shopper from Colorado on Saturday, December 13, 2014

I have been an outdoor professional for over 20 years and have tried several different brand of hiking boots. Danner, hands down, has been my reliable favorite-- most durable, comfortable, nice looking (no weird colors), quality materials (leather, sole, grommets--all of it)--and these particular boots are top of the line. I own a pair of these boots right now. The Combat Hiker works well on steep, loose slopes during consecutive, 10+ hour-days of hiking or surveying. They didn't need breaking in. The rubber bumper helps protect the leather and its seal with the sole. If stuck in the office, they are even comfortable and look nice in that setting as well. Seriously, Danner has my vote from experience as the BEST BRAND of HIKING BOOT one can buy! They are expensive boots for good reason and I recommend one get 'em up while on sale. Even if you don't need a pair at the moment. That is what I did.

Reviewed by Scott from Germany on Wednesday, November 12, 2014

I'm an hiker/backpacker and Soldier, and I love these boots. Some people on here say they feel sorry for the Soldiers that had to wear these boots. I can attest that they are the best boots ever issued -- the only one that don't cause me injuries from heel slippage, etc. Too bad they were only authorized for a short time, and only in Afghanistan, until the government made contracts for much cheaper versions.

Yes, they take a while to break in -- about 100 miles. Yes, the insole sucks -- but who doesn't throw their favorite (like Superfeet) in their boots as soon as they buy them? Once broken in, with a good insole, these things are great.

This boot is still made by Danner, but under a different name with a speedhook at the top instead of an eyelet. And it's $300!

Reviewed by jim from Northern ohio on Tuesday, October 21, 2014

The question that I often asked myself is why wouldn't our government researchers look more at the common civilian hunting boot there made far better than any military boot . I Like The Design of the combat. Hiker but would like to see the inside of the hiker built with better quality you would think for 300 plus you would have a awesome hiker"!!! If Danner wants to really test the next military boot give them.to the hunters I'm sure they would give them the best test"!! $

Verified Buyer

Reviewed by Outdoor laborer from Seattle, wa. on Saturday, April 5, 2014

These boots are made in the USA & they are well built. A little narrow, although the 1st pair I ordered it stated that the size d in men's was equal to a narrow women's size. The size 3.5 men's was true to the size of a boys size 3.5 , only difference was the boot was of the quality of a men's work & not the cheap kids version that the look a likes usually are.

Reviewed by Maplecreekrods from Michigan on Friday, February 28, 2014

The boot is made of quality materials but the design is very flawed. The boots have "D" rings all the way up, there is no good way to lace the boots, to get a tight fit, so your toes slam into the front of the boots on downhills. The insole in poor and the sole flexes way too much for my liking. The boot would be fine as an urban boot.

Reviewed by JtothaK from Denver, CO on Tuesday, November 19, 2013

I hike a lot here in CO including 14ers, extended backpacking sessions and random day hikes. I also go through boots fairly quickly given the amount of hiking I do and the ruggedness of the terrain out here. That said, I've tried lots of different boots, from full grain leather old school hikers to ultralight Montrail trail runners to my current favorite pair of boots, Scarpa Mustangs and lots in between.

I picked up a pair of the Combat Hikers since 1) they were a good deal (under $100) and 2) they are U.S. made for our military and 3) the boot is constructed of quality materials. Everything appeared to be in good order so I took them for a short day hike.

Here's a list of problems:

- No speed lace system. Apparently the design team failed hiking boot design 101. How are you supposed to tighten up the boot properly in order to prevent your toes from slamming in the end of the boot while hiking down something steep?! No matter how hard I pulled tight, no dice. The tops of my toes kept slamming the end of the boot.

- Non-supportive sole. Outersole is flimsy as a sandal (literally) and provided no support WITHOUT a pack (i'm 6'2", 185lbs). I will never wear these backpacking for this reason alone.

- The overall fit is sloppy. This appears to be due to a poor design (standard width boot for my standard width food). Namely, when the laces are max tightened, the tongue doesn't fit in place properly nor does the upper part of the boot join together properly. Second, due to the weak sole, the boot flex crease occurs directly over the top of my foot. It's as if the boot design consisted of simply joining a few pieces of leather and rubber together without any regard to anatomics or any other rational thought.

- The insole is a joke. A flat piece of rubber with no arch support whatsoever. Why even bother?

- Perhaps the worst part is that this is the best "combat hiker" that our government could provide our troops. They deserve the best, not second rate "one size fits all" garbage such as this. But how would we fund this you ask? How about we divert knowingly abused well-fare funds into some decent gear for our military?! How's that for "Change"?

The only positives are that the materials appear to be good quality and these are made here in the States.

If you don't really hike (be honest) and want a cool looking boot that our military uses for tooling around your yard, garage or the Walmart ammo isle, then you will probably like these however, there are many, many better options for a true hiking boot (or "tactical" hiking boot for that matter).



Reviewed by Bigmtnluv from Colorado on Saturday, September 21, 2013

Some of the best boots I have owned. Came in to buy a 2nd pair but they don't have my size.
Got these December 2011. Still unsure if they are really Gore-Tex because nothing on the boot indicates this. I have not had any problems with water. I NickWaxed them. The leather has held up extremely well. I like having eyelets to the top rather than the quick lace that give. I have Hiked14ers with them and used them in the winter as well. Have held up great. Rand still welded on solidly. Put a higher arch insole in them.