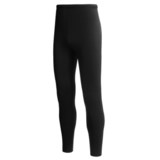 Closeouts. Double Diamond by Black Diamond Sportswear's sleek high performance, power-stretch tights offer a nylon outer face for wind resistance and a fleece inner face for comfort.
Average Rating based on
359
reviews
4.150417
0
5
Verified Buyer

Reviewed by Maine Mama from Mid-coast Maine on Tuesday, December 22, 2015

These are warm and cozy for running; do not offer a lot of support.

Verified Buyer

Reviewed by Desertgrass from Modoc on Friday, December 18, 2015

Got them for running. I am inspired to run more. Even in weather in the 30's (deg F). Fit well

Reviewed by justbob from Redwood City, CA on Tuesday, November 10, 2015

I am a dude who wears 31" pants so I ordered a Small. Wrong! After looking at them my wife said those have to be a child size they were so small. After reading the reviews I now realize I should have ordered a Large. Good thing I also ordered a different brand at the same time and those fit fine. And they were $20 cheaper too. So those will be going back. Regarding the product itself they do seem pretty nice.

Verified Buyer

Reviewed by B from Montreal on Thursday, November 5, 2015

I like it

Verified Buyer

Reviewed by Jadawoman from WI on Wednesday, November 4, 2015

I have 3 pair of these. Live in them during the fall and winter.The sizing is off. I wear a small in most women's tights, but can barely squeeze into the small size of these. I wear the large size in these to lounge in when I don't want something constricting. The medium works well for me, also. I am 5'7" and weight 130 lbs.

Verified Buyer

Reviewed by Graduate student from Ohio on Wednesday, October 21, 2015

Winter in Ohio can be really cold. This will be my first winter in Ohio and I bought 3 of these tights to prepare for the cold. It hasnt been really cold this month but it got in the low 50's and high 40s on a couple of days. These tights were really warm. I actually sweated a little when I wore them so I assume they can definitely withstand colder days in the near future. The tights are really thin so it allows me to stay fashionable with my skinny jeans in the cold. Unhemmed leg openings make it easy to put on wool socks without a lot of stretching. Im 5'6, about 155lb, and have somewhat athletic body type. I ordered size L after reading all of the previous reviews. I normally wear size 32 pants of Gap and American Eagle. I own a couple of Under Armour compression shorts in size M. The waist band of UA shorts hugs my waist pretty tight so it becomes uncomfortable for extended wear throughout the day. The material of these Double Diamond tights, however, are very soft and it is very comfortable to wear throughout the day regardless of the level of activity. I think I can fit these tights in size M as well, but I LOVE LOVE them in size L because the waist band just softly stays on my waist without leaving any mark at the end of the day.

Verified Buyer

Reviewed by Karen the Cruiser from Seattle on Monday, September 14, 2015

I purchased these for a cruise to Alaska for September travel. They were just right under a pair of jeans for hiking, river rafting, changing altitudes and climates. I never wanted to take them off. I was so comfortable the whole time wearing them under clothes, I just started wearing them as my wardrobe. As perfect as a warm pair of slippers.

Reviewed by HC from New Brunswick on Monday, August 31, 2015

Got the smalls. I'm a 5'5" 120 lb lady, fairly petite build, and these fit really well except the waist is just too high and too tight for my taste. The fabric is a bit thinner than the comparable Kenyon version, which I also bought. Still a nice warm and soft power stretch fabric though. These feel more like cold weather running tights. Nice length, and I actually like the unfinished bottom hems, it'll make for smoother tucking inside socks and boots. I'll pick out the waist and drop it down, and then these will be perfect. Overall a good buy for the price, even if they need some modifications.

Verified Buyer

Reviewed by Anonymous from Wyoming on Sunday, June 14, 2015

I was very happy with this purchase! Not only are the tights extremely warm but they are close fitting so that I can wear them under most of my jeans with no problem. I did order up a size - I'm 5'8 and 150 lbs and ordered a large and was very happy with the fit. Only complaint I have is that the pants lack give - don't expect to be doing yoga moves in these pants.

Verified Buyer

Reviewed by Pamelaattheriver from Virginia on Thursday, June 4, 2015

I originally bought two pairs of these base layers for an expedition cruise. They were the perfect base layer for temps 30-40 degrees F. They are smooth on the outside and so other layers go on easily. The real bonus for me was, I think they look great to just wear as leggings in the winter with a big over sweater. They really wear well and I have had the original two for years with only a small hole (which did not run) from where I caught them on something. There was eventually a little pilling on the upper thigh parts of the tights but seriously, I wore these a lot and they were washed and dried a lot. I just bought two more pair because I like them so much and am going on another trip, a bit more extended this time.