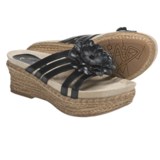 Closeouts. A stunning leather flower adorns the instep of Earthies' Valencia sandals, its petals furling out over the strappy leather upper to complement the braided jute platform and wedge heel.
Average Rating based on
19
reviews
3.736842
0
5
Reviewed by LaMadrilena from Naples, FL on Tuesday, July 22, 2014

I bought these for the lovely teal color. They are so wide on me it couldn't walk in them. (I wear a 8N.) I took them to the shoe repair and they tightened the straps up for $20. I still have a small problem with my heels sliding off the side, I think because the shoe is heavy. I don't wear them when I have to walk a lot, but they're fine for choir where I just stand up and sit down.

Reviewed by Daisy from Watertown, Ma on Sunday, July 28, 2013

I have a large sized foot but these were too loose. I had to send them back. They were a really cute sandal and wished they had fit.

Reviewed by bonny from Boulder on Friday, July 19, 2013

Great quality and color. Very comfortable and true to size. Wish there was a variation in blue.

Reviewed by LaMadrilena from Naples, FL on Tuesday, June 25, 2013

I wear an 8 N, so I knew it was a llittle risky to order these. There is a ridge around the edge of the bed, so don't try to squeeze your foot into these. I lliked the shoes, so I bought sticky pads to take up some room. Even that wasn't good enough. I finally took them to a shoe repair shop and Silvio is taking them in 1/4 inch on each side. I hope they'll come back perfect.

Reviewed by Amy from Kentucky on Monday, June 3, 2013

These are extremely unstable shoes. I fell off the sides of them twice immediately after putting them on. The second time, I fell hard onto pavement and seriously hurt my elbow. I am lucky I didn't break my ankle or worse. There is something about these shows that makes them very unsteady when putting pressure on the heel. Avoid at all costs!!!!!!!!!

Reviewed by Labyrinth Walker from Ithaca, NY on Sunday, June 2, 2013

Adorable and well made, even comfortable, at least for standing. Unfortunately, they are very unstable. One other reviewer mentioned this, but since it didn't seem to be a problem for everyone, I thought I'd give them a try. Within in a minute or so of trying them on, though, I turned, both shoes tipped over, and of course I tipped over right along with them. I was grateful to be in a carpeted room and not on the sidewalk or street! As cute as they are, they are going back and I am giving them a low score to reflect this major defect in design. I love pretty shoes, but no shoe is worth a twisted ankle or worse...

Reviewed by RDB from Greeley, CO on Thursday, May 30, 2013

I didn't like the height of the sole on these and returned them. They were cute, just too high for me.

Reviewed by Terbear from Colorado springs on Sunday, May 19, 2013

I am a strictly Dansko kinda girl. These looked close enough but the platform tapers to the sole, giving you less surface are to walk on. I tried them and loved the style for the season of graduations and weddings. But the first step I torqued my ankle, emphasing the hardware from my previous ankle fracture and but them back in the box for returning.

Reviewed by Shurbee from WA on Wednesday, May 15, 2013

My wife really adores these sandals. They are very comfy and easy to wear. They don't pinch or squeeze anywhere and took no breaking in.

Reviewed by Karen from Arizona on Wednesday, May 8, 2013

Great shoes, great price and really great service!