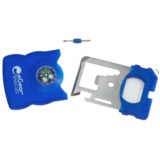 Closeouts. A multi-tool and survival essential, eGear's Survival Card tool includes a liquid compass, magnifier, can and bottle opener, screwdriver and mini ruler in a lightweight and ultra low-profile package.
Average Rating based on
11
reviews
2.545454
0
5
Reviewed by HokieTrax from Heart of the Hokie Nation, Blacksburg, VA on Saturday, November 2, 2013

This would not go in my backpack but it's perfect for the glove box in the car (or your purse) for when you suddenly realize you don't have a bottle opener or a screw driver or something that will cut something. The little button compass won't work until you remove that part from the metal part - then it is pretty accurate for what it is. The tiny screwdriver that has a slotted blade on one end and a Phillips on the other would actually be very handy for fixing eyeglasses. And the small magnifier would work in a pinch if you happened to find yourself stuck without your reading glasses and had to read something. A Swiss Army knife overall will be more useful but for something that can just live in the glove box, this might come in handy.

Reviewed by WI hiker from WI on Tuesday, October 29, 2013

As others have said, the compass does not work. But the blade seems to be worth carrying as well as the magnifer. I tried to get the cmpass out to replace it with one I have that works. It won't budge.

Reviewed by John from Sandy, UT on Tuesday, October 1, 2013

This is a great tool to have in your backpack. The only drawback is that in order for the compass to work properly you must remove and seperate the two peices. other thatn that it works great. very sharp be careful!

Reviewed by HikerGirl from Wyoming on Saturday, September 14, 2013

Other parts of this tool are fine; but the compass does not work. Returned.

Reviewed by Ozzie from Vancouver B.C. on Sunday, September 8, 2013

Very lightweight addition for my fishing vest.

Reviewed by Jeremy from New York on Tuesday, August 20, 2013

Neat little tool, has some useful stuff and you can't pass up a gadget for such a discounted price. BUT don't trust the compass!!! It never points north, one issue is that that "blade" has a magnetic charge, so you can't use the compass with the "blade" in once you take the blade out it also does no point north, likely demagnetized. The fact that the blade holds a charge makes me think that it's not stainless steel or at least good stainless steel as advertised.

Reviewed by Sarah from Edge of the Wilderness MN on Sunday, August 4, 2013

i dont have any idea how a ruler or screwdriver or even some of the other aspects of this are going to help in a survival situation. maybe my definition is different than those who designed this. someone enlighten me. please. otherwise dont waste your money on this. glorified compass i can understand i guess...

Reviewed by inquiring mind from Elko on Saturday, August 3, 2013

Compass only works if metal part of tool is taken out. Sharp blade along short edge. Lots of distortion from magnifying lens. Just bought one to see it; not worth sending back, but NOT ordering a dozen more for stocking stuffers. Made in China; get the Swiss one for quality.

Reviewed by Mad Trapper from North woods on Thursday, August 1, 2013

Must be made of magnetic stainless as the compass is useless, unless you take the tool apart and get the compass away from the steel.

The magnifier is poor quality and very difficult to get a focus, and when you do, it is of a VERY small area, have not tested it yet to see if will start a fire (just got it, night time now).



Reviewed by Spinewrencher from Vancouver on Thursday, August 1, 2013

This is a survival tool that takes up no room and might just be super handy one day. I love little things that can save my life if I need them!