Eight Eight Eight

Sizes

Style

Gender

Sleeves

Colors

Prices

Search Within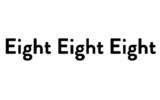 About

the

Eight Eight Eight

Brand
If you've been on the hunt for a stylish, cozy new sweater, you owe it to yourself to check out Eight Eight Eight clothing. Available in a selection of stunning looks, Eight Eight Eight sweaters are a luxurious choice for women who appreciate modern, casual style with an upscale edge. From sleek, cowl neck sweaters to classy cardigans, this is one brand that knows how to keep you feeling and looking your best when the weather gets chilly. This autumn, when the temp cools and the leaves start to turn, wrap up in the elegant, sophisticated comfort of an Eight Eight Eight cardigan or sweater. You won't be disappointed.
Compare at $88.00
Closeouts
Compare at $88.00
Closeouts
Compare at $88.00
Closeouts
Verified Buyer

Reviewed by Grover Woods Orchard from Wisconsin on Tuesday, November 22, 2016

Beautiful and well made too. Nice to find a cotton tunic sweater. My fashionista daughter approved wholeheartedly if this addition to my yoga teaching wardrobe.

Verified Buyer

Reviewed by massachussetts cass from massachusetts on Sunday, November 20, 2016

Nice change for a tunic and longer length which is nice. Warmer for winter (and if more warmth is needed wear a thin, like silk, underlayer). Might have a tendency to small pulls though in the knit, over time. I'm really pleased.

Verified Buyer

Reviewed by owlgrabber from Oregon on Tuesday, November 15, 2016

Nice sweater, nice pattern, well-constructed, just didn't suit me. I like the longer length too. Wish it had worked.
Receive email updates for new Eight Eight Eight items