Emu Reviews

Popular Emu Searches
Based in Geelong, Australia, Emu has been making sheepskin boots, shoes, slippers and merino wool clothing since 1994. The people who design Emu boots and apparel believe the true art of craftsmanship is found in the materials and in the details. Quality, comfort and functional style are three characteristics that are never compromised on, which is why Emu clothing is creating using nature's performance fiber -- merino wool -- which is naturally soft, breathable and odor-resistant. Emu boots, shoes and slippers are crafted from genuine sheepskin for incredible warmth. Ever natural. Ever Austr
... Learn more about Emu
alian. Ever Emu. ... Less
About the Emu Brand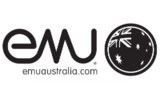 Reviewed by AnnaK from Delaware on Tuesday, July 5, 2016

They don't fit well and I don't think this will stretch any time for possible comfort that i was looking for



Reviewed by manny from NewYork on Saturday, July 2, 2016

holes through the toes after a few months of very light duty use...They are being returned for credit.

Verified Buyer

Reviewed by Love to shop from NE on Tuesday, June 14, 2016

There was no way I could get my foot into these. I have a high arch, and there was not enough space to slide my foot in. I returned them. The picture made them look better than they did in person. I would have returned them even if they fit.

Verified Buyer

Reviewed by olhash from Ukraine on Sunday, June 5, 2016

Bought these boots for my daughter. She wore UGG classic short for 2 previous winters and I've desided to try emu for the next one. These boots look nice and comfortable. They are rather stiff than slouchy, and I like it. Boots have removable inside sole (22cm in size 2), the inside "fur" is made of wool, not shipskin. Hope these boots are durable too.

Reviewed by Shanti from LA, CA on Thursday, May 26, 2016

Do not size up. I made the mistake of doing so as the initial fitting was snug in my regular size. The wool conforms to your feet so a larger size now feels too loose. Great quality boiled wool boots. Heel is somewhat inverted so may take a little getting used to.

Verified Buyer

Reviewed by Catwoman 51 from Virginia on Monday, May 23, 2016

Bought these on sale.....I read the reviews that they fit a little tight, but I also thought they would form to my feet over time. They are a little tight, but I know they will stretch to fit as I wear them. I love the way they look - like a wool sneaker. I am really happy with this purchase!

Reviewed by Kc from Sd on Tuesday, May 17, 2016

Fake Emu boots, bought three nothing like the picture or my old pair

Verified Buyer

Reviewed by Pat from Arizona on Wednesday, April 27, 2016

This is the second pair of these boots I have owned. Virtually the same as UGG's which I have also owned, but less expensive and they last as long. I would not waste my money on UGG's - these EMU's are great boots

Verified Buyer

Reviewed by Haile Selective from Sacramento on Monday, March 28, 2016

I bought these to throw on my feet apres kayaking. They are well-made and sturdy, I expect that they will also be substantially water-resistant. They are stiff and more like snow boots so if you want boots similar to UGGs that are slouchy and "soft", these are not the boots for you. For me, they fit my needs: warm and carefree but more support than slippers.

Verified Buyer

Reviewed by athleticmindedtraveler from San Diego on Tuesday, March 22, 2016

While my hubby commented that these look more like boot liners than boots, i love them. i did not size up and was fine, but i have slim calfs. i like the odd ball look and wear them barefoot. they are not soft inside, but smooth.