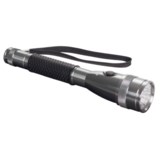 Closeouts. This flashlight from Energizer is constructed of high-quality machined aluminum, and lights the way with a 1-watt LED housed in a reflector.
Rubberized push button on and off switch
Rubber hand grip
1-watt LED
Lanyard
Requires two AA batteries (included)
Length: 7"
Diameter: 1-3/8"
Weight: 5 oz.
Material: Quality machined aluminum body
Closeouts. China.
Average Rating based on
33
reviews
4.393939
0
5
Verified Buyer

Reviewed by Alan from South Carolina on Wednesday, March 17, 2010

Good buy . Excellent Value

Best Uses: Bed side nite light
Describe Yourself: Environmentalist
Pros: Adjustable Beam, Bright, Durable, Light weight, Long battery life

Reviewed by Camp @ Turkey from Istanbul, Turkey on Tuesday, March 16, 2010

I use it at home in case of power cut and it works perfects. Can see at least 100 feet using it.

Best Uses: Backpacking, Car Camping, Day trip, Hiking
Describe Yourself: Avid Adventurer
Pros: Bright, Durable, Long battery life, Stable

Verified Buyer

Reviewed by Regular Guy from Midwest on Saturday, March 6, 2010

Quality construction and a good design.

I bought one a while back - just bought two more (one as a gift).

The beam is not adjustable - but not necessary because the light output is perfect.

Cons: No Beam Adjustment
Describe Yourself: Casual/ Recreational
Pros: Bright, Durable, Long battery life

Verified Buyer

Reviewed by Tom from Columbus, OH on Wednesday, March 3, 2010

I use this great LED Flashlight, when the power goes-out, look-around in a dark room, going-down a dark stairway and close-up electronic repair work.

Best Uses: Backpacking, Car Camping, Day trip, Fishing, Herb Hunting, Hiking
Describe Yourself: Casual/ Recreational
Pros: Adjustable Beam, Bright, Durable, Lightweight, Long battery life, Slender, Stable

Verified Buyer

Reviewed by Miltman from Hillsborough, NC. on Monday, March 1, 2010

Have not owned product long enough to evaluate some categories. Pleased thus far.

Cons: No Beam Adjustment
Describe Yourself: Casual/ Recreational
Pros: Bright, Durable

Verified Buyer

Reviewed by mattress man from Savannah Ga. on Thursday, February 25, 2010

[...]

Best Uses: Backpacking, Car Camping, Day trip, Hiking
Cons: No Beam Adjustment
Describe Yourself: Professional/Guide
Pros: Bright

Verified Buyer

Reviewed by ukulele camper from San Diego on Tuesday, February 23, 2010

This flashlight is compact and a great deal for the price.

Best Uses: Backpacking, Car Camping
Cons: No Beam Adjustment
Describe Yourself: Casual/ Recreational
Pros: Bright, Durable, Stable

Verified Buyer

Reviewed by Rob from San Leandro, CA on Monday, February 22, 2010

a good durable everyday flashlight. Powered by my favorite batteries, double A's, long lasting & reasonably priced. I especially like the one-handed push botton on/off switch.

Best Uses: Car Camping, Day trip
Cons: No Beam Adjustment
Describe Yourself: Casual/ Recreational
Pros: Bright, Durable, Long battery life

Verified Buyer

Reviewed by keely4444 from warren nj on Wednesday, February 17, 2010

Nice quality flashlight at the reduced price. wouldn't have paid the higher price. not as bright at some others i have but pretty bright. nice small but not tiny size

Best Uses: Backpacking, Hiking
Describe Yourself: Casual/ Recreational
Pros: Durable, Small and light

Verified Buyer

Reviewed by Billd from Temple, TX on Tuesday, February 16, 2010

Have them in every location that calls for a little bit of light to help out.

Best Uses: anywhere
Cons: No Beam Adjustment
Describe Yourself: Casual/ Recreational
Pros: Bright