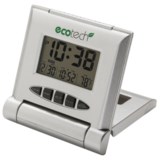 Closeouts. A folding travel alarm that runs on a battery but recharges itself with natural sunlight, Equity by La Crosse Technology's Hybrid Solar travel alarm keeps you on track when you're on the road.
Average Rating based on
17
reviews
2.588235
0
5
Verified Buyer

Reviewed by satisfied shopper from New york on Wednesday, August 5, 2015

Bought this for a college student , Looks good, hope it works well.

Verified Buyer

Reviewed by Florida Prairie Campers from South Florida on Friday, July 31, 2015

Compared to my old travel alarm clock, this is light as a feather. Unlike a lot of small electronic devices, it's easy to change the settings. You can go backwards for forwards; that is, if you trying to set your time for 5 pm and accidentally advance to 6 pm, you don't have to go all the way around the clock again to get to 5 pm - you can go backwards from 6 pm directly to 5 pm. Be aware that you can't see the time when the clock is folded up. That "window" you see on the base-cover isn't a window -- it's the solar panel.

Verified Buyer

Reviewed by JMM from New York on Tuesday, July 28, 2015

I can see why this travel alarm has received so many bad reviews. Mine is working, but I have discovered that I cannot hold down the snooze button longer than 3 seconds without the display of numbers disappearing. Then, I have to reset the clock again. So, I am treating it with care and hoping it holds up.

Verified Buyer

Reviewed by Philip from Upper Midwest on Monday, April 20, 2015

Failed right out of the box. Would return it, but the shipping costs
as much as the product. Several of the other La Crosse products
are equally bad.

Verified Buyer

Reviewed by Jayce from New Mexico on Friday, April 3, 2015

This is a nice little travel clock - my only complaint is the lettering on the buttons is very small and hard to read - once you learn what each one does it doesn't matter that much.

Reviewed by Bargain Gal from CT on Tuesday, March 31, 2015

Lasted 6 months, then blinked. Put new battery in, & it just kept blinking folks. Do not buy.

Verified Buyer

Reviewed by Greek traveler from Georgia on Sunday, March 15, 2015

Would love to have a solar powered travel clock but this one has too many irritating features. The size is good, display okay but when you reach out in the night to push the button the illuminates the display, it makes a loud beep that is guaranteed to wake anyone nearby. And the display stays illuminated for a split second so if you are not looking RIGHT at it, you miss it completely. I did keep it as an extra clock around the house but will not use it for travel or as a bedside clock for the reasons here.

Reviewed by Bargain Gal from CT on Friday, March 13, 2015

before the battery failed. Then it just blinked. Disappointed!

Verified Buyer

Reviewed by Hohofish1 from Pennsylvania on Tuesday, January 27, 2015

Product instructions are written so small, impossible to read. Product is very poor quality.

Reviewed by Sunshine 6 from California on Saturday, September 13, 2014

ok for the price...green back light lights up to a 'green window', but covers the clock info and makes it invisible...La Crosse has better models than this one...