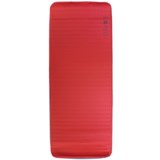 Closeouts. With thick open-cell foam and a velvety top, Exped's Comfort 7.5 LW sleeping pad provides that luxurious sleeping experience you crave at the end of a long day on the trail.
Average Rating based on
12
reviews
4.916666
0
5
Reviewed by derek from Maryland on Thursday, June 25, 2015

These mats are fantastic! Easily the best night's sleep that my wife and I have ever had camping. I purchased two of these during one of Sierra Trading Post's sales and we got a great price on them. At about the same time we were given a Therm-A-Rest Dreamtime (the older version), which also gets great reviews. My wife and I compared and thought the the Megamat 7.5 was comparable to the Dreamtime in comfort. The only real difference we noticed is that the Dreamtime microfibre top is slightly more comfortable to touch, but it also collects a lot more dirt and grime. We sold the Dreamtime. The Megamat is just as comfortable and much easier to clean and maintain. My wife loves Megamat's valve for fine tuning comfort. She presses a button and lets just a little air out until the mat is the perfect firmness. For me, I'm a 6'2 - 220 lbs. side and stomach sleeper and I now enjoy a great night's sleep while camping. It is so refreshing to wake up well rested!

Verified Buyer

Reviewed by Amy Chills from Idaho on Tuesday, June 9, 2015

These sleeping pads were a game changer when it came to camping. I've always camped but never sleep that well while camping, I'm a side sleeper and while I love my ultra light Thermarest, I never get a good nights sleep because I'm constantly waking up and having to change positions so I don't get sore. I bought two of these pads during the memorial day sale that STP had (Got 2 for $180!!) and could not be happier! These are definitely meant for car camping and not backpacking! I laid out both of them on our bed a couple days before heading up to Stanley Lake and they draped over our queen size bed by a couple of inches! These are BIG mats! The foam & air combo is awesome, and the little pump that comes with the mats takes no time to get air in at all! We camped for 3 nights and I didn't have to add air at all! The mats come with loops that you can attach to your partners mat so you don't get that awkward gap between mats in the middle of the night. I've never slept so good while camping! The insulation in these mats is just right! And even though they are bigger than my Thermarest mat, these puppies rolled up SO much easier! The dual valve (one for inflating and one for deflating) is such a great feature! Do yourself a favor and buy one (or two!) of these!

Verified Buyer

Reviewed by Andy from California on Tuesday, June 9, 2015

This appears to be a great pad. Better than I am use to. Can't wait to try it outdoors. Good price for the quality.

Verified Buyer

Reviewed by Simplify from Ca on Tuesday, May 19, 2015

I found it very comfortable as I am a side sleeper and it didn't hurt my hips. The pad is generous in length and depth. Could be a little heavy and slightly cumbersome on a long hike, but excellent for car camping, or as an extra-bed for guests!

Reviewed by MFSUNSHINE from California on Thursday, April 2, 2015

The Wife and I tested these out in the front room the first night we got them and man were they comfortable! I'm a side sleeper and the wife has a problematic back and we were both as comfortable,if not MORE comfortable, than in our bed. They are completely adjustable from SUPER firm to soft/plush. It was nice that we could fine tune each mat to our preference. With the 30" width you can sleep in just about any position you can think of. The valves make inflation and deflation easy and the included pump is good for topping off. The initial self inflation takes quite a long time, remember that these mats have been stored rolled up for a while. Lay it out, open the valve and just let it be. After a few hours, give it a few pumps to get it going and the foam should take over from there.

Keep in mind that you should store these inflated whenever possible to maintain the foam properly, so keep storage space required for these in mind before purchasing. If you store them like this and only roll them for trips, the self inflation feature works MUCH better. If you keep them stored rolled up, the self inflating feature will suffer.

I plan to use these for car camping trips in a tent, laid out on my sleep platform in the bed of my truck (although they are just bit too long) and short backpacking trips (it's the only way I can get the wife to go...)

I had been holding out for my 20% off coupon and dividend from my local 3 lettered outdoor retailer to get a set of the MegaMat 10's but at the price I got them on STP (with coupon, sign up for those newsletters people!), I got 2 MM 7.5's for less than the price of 1 MM 10! As another reviewer said, the MM 7.5 is about 3 in thick vs. the MM 10's 4 inches. But I don't think your giving up much comfort in that inch.

For the STP price and slightly reduced weight of the MM 7.5, I struck gold!

Note: I ordered 2 pads and both were missing the coupler straps to hold 2 pads together. I have call in with STP customer service to resolve the issue. I will update this review when I hear back.

Verified Buyer

Reviewed by Sleepy in Alaska from Anchorage on Tuesday, March 17, 2015

Its like a lighter version of a paco pad, for those familiar. FYI, the newest megamat from Exped is 10cm thick, not 7.5 like this one (ie. 0.9") thicker. Other than that they are the same, weight is a little less on this pad (the 7.5) I think this mat is plenty thick enough and ultra comfortable.

Reviewed by Kim P from California on Sunday, February 8, 2015

I kayak camp with an Exped SynMat 7M, and love how comfy it feels slightly under inflated, like my air bed at home, yet it packs down very small.

I bought this larger car camping mat to serve as a spare bed that requires less storage space than the big blow up mattresses. I tested it myself - comfortable, and more space to move around. Missed that it rolls up full width, not folded, but it's footprint will be small when stored, standing in the corner of a closet.

Verified Buyer

Reviewed by Mike from Ohio on Sunday, January 4, 2015

The flat surface provides a comfortable sleep compared to the pads that have ripples and waves. Would buy again.

Verified Buyer

Reviewed by Caroline from Oregon on Sunday, November 30, 2014

I had originally under inflated this pad and thought that was the extent of its versatility, but later I found my mistake and inflated it more fully. It's a great pad, comfortable and easy to use.

Reviewed by car camper from colorado on Sunday, November 16, 2014

This mat is big, so be sure it fits in your tent from the measurement. My husband and I both got these and loved them. We are side sleepers and it has been hard to find a mat that keeps us from waking up and shifting through the night. Because they keep you higher off the geound you can really adjust how soft or hard you want it for you body type. We were joking that we got the sleep number bed for campers. They are wonderful at keeping you warm for winter camping too. I always seem to get cold at night and roll a lot but this mat kept my ground side always warm. We brought our air mattress pumpto use in addition to the pump provided. It just made things faster as the self inflate wasn't very fast. The one way valves make packing op super fast and easy though.