Ferrino

Tent Seasons

Sleep Capacity

Colors

Prices

Search Within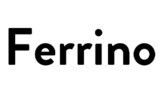 About

the

Ferrino

Brand
Founded in Turin, Italy by Cesare Ferrino in 1870, this venerable outdoor gear brand was among the first to create an industrial process for producing weatherproof waxed fabrics. In the 145 years since, Ferrino backpacks, tents and sleeping bags have continued to help adventurers go further. From Reinhold Messner's ascent of Lhotse (the fourth highest peak in the world) in 1986 to Borge Ousland's solo, unassisted ski trek across Antarctica in 1997, Ferrino tents and packs remain trusted assets to many of the world's most intrepid explorers. When it comes to creating Ferrino sleeping bags, tents and packs, this brand has a longstanding reputation for exceeding expectations.
Compare at $710.95
Closeouts
Reviewed by Pat from PA. on Friday, November 4, 2016

I usually don't like to review something until I use it, but I am very impressed with this tent. (set up in my living room) It is difficult for one person to set up, but I'm hoping it will get easier with practice. Two people would have no problem. It's very well made. There are ports for ventilation, two small mesh windows that can be completely closed, mesh windows in primary door, but not rear door, four mesh storage pockets on upper sides rather than lower, numerous loops for hanging things, numerous guy out points, fairly roomy vestibule and it really IS a two-person tent. It's probably overkill for milder temperatures, but I think it will be a great winter tent. I'll be trying it out next week. For the price, I don't think a winter camper could go wrong!

Reviewed by Onder from Istanbul on Thursday, November 3, 2016

It's a sturdy, top quality 4-season tent. I personally think it's as good as VE25 and way cheaper than VE25 with Sierra's amazing discount!
I recommend it to everyone who trusts in his strength :) So the only con is it's weight.
Happy camping!

Verified Buyer

Reviewed by Petaluma Doug from California on Sunday, October 23, 2016

This tent is very well made but difficult to set up as noted by other reviewers. I would hope after being set up for a while that over time it will streach and find its shape easier instead of fighting as one sets it up. IT would be very, very difficult to set up in a stormy situation!
It weighs a ton! Hope you are strong if you are going to carry this very far.
If you are familiar with four season tents you will know that they are not as pleasant as a three season tent to spend time in outside of a very cold night, or storm. This is because they don't breath nearly as much as lighter tents. This tent is no exception. As you know personal hygiene is lower in the backcountry than in the city and two to three people spending time in a small space that doesn't breath very much can lead to a stinky environment.
Tent is a good size for two and more generous in size as a three man tent than most. Poles are very beefy.
Great extra room at both ends of the tent under the rainfly. Great wind profile. A serious tent that is well made.
Receive email updates for new Ferrino items