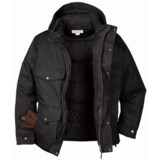 Closeouts. A sturdy and durable double-layer twill, Filson's Portage Bay jacket combines a seam-sealed shell with low-bulk insulation and a hint of warm wool to keep you warm on the move or in the field.
Average Rating based on
23
reviews
4.260869
0
5
Reviewed by Icanoe from Iowa on Monday, July 28, 2014

Company may have originated in Seattle but moved much of its operation to China and the quality is really beginning to show, their sizing is way off and unless you enjoy swimming in your clothes order a size down.

Reviewed by The Sage from Provo, UT on Friday, December 27, 2013

Filson sizing is very wide for lumberjacks that eat a lot of pancakes. I had to return this guy even though I liked it.

Reviewed by Karl from Hat Island, WA on Saturday, December 21, 2013

NW 30F is too warm unless it is unzipped. Proud of a usa NW company design but now made in China... almost too many pockets and zippers and/or snaps on all of them. XL almost is a Large Tall and you can still hide your hands in the sleeves. Filson, a Seattle company, made in China, why, and I have one of their oil skin hats that just doesn't fit right, and the jacket doesn't fit right, especially the collar, but it might be my bias. Great jacket for $150, but it isn't worth the $400 retail if it is made with slave labor. Even if Seattle labor didn't make a better jacket, it provided jobs to people who would actually wear and buy the jacket. Love the fabric. Wish it was herringbone design, and the pockets... I'm not sure I can do an accurate count of the pockets but no game pocket in the back would have made it perfect for the Dads that want to stow an extra sixer in the back pouch... life. I like the snaps that rattle when you walk, and the pockets... did I tell you about the pockets.... anyhow, looking forward to see if it is waterproof or not. No rain in the NW, mist, fog, 110% humidity, but rain, not. And now for the pockets... four on each side, each either sipper, snap, and the inner zipper pockets are plastic lined but may just fill up with water as a chinese joke of manufacturing or something. No reason this coat can not be manufactured in Seattle again.

Reviewed by MN Mom from MN on Saturday, December 21, 2013

Very warm, stylish, and lots of pockets.

Reviewed by PA Backpacker from PA on Saturday, December 21, 2013

Filson quality, STP price... Purchased with a coupon, which was an unexpected bonus!
Great looking jacket, very well contructed with lots of useful pockets. I would describe it at as lightly insukated, not the warmest coat I own, but definitely windproof and waterproof as described. Would recommend to anyone looking for this type of outerwear, and would definitely purchase again.
6'00" tall, 175 lbs, and a size Large fit perfectly.

Reviewed by Josh from MIssissippi on Friday, December 20, 2013

Love the jacket. I am 6'1 and 210. Large fits perfectly. Warm but breathable so you are never too warm. Looks great, very functional, top notch materials and components. If I lost or ruined this coat, i would buy another one in a second. Definitely recommend to anyone!

Reviewed by chop86 from Chicago, IL on Tuesday, December 17, 2013

I wear dress attired to work every day, so I bought this jacket (in black) to wear on those days when a softshell or pea/wool coat don't stand up to the elements. For my commute, I stand on an elevated train platform (very windy!) in sub-freezing temps nearly every morning throughout the winter, so I need a warm, waterproof, wind resistant jacket. The jacket has already been tested in 0 degree temps and has endured heavy snowfall...it's takes everything mother nature throws at it! High quality and build construction, warm insulation, sizing is true, and sleeves are perfect length (I ordered an XL and my sleeve size is 37").

I recommend this jacket for anyone looking for a stylish and practical jacket for winter climates. Filson has won me over with this one!

Reviewed by Freddie from Rhode Island on Tuesday, November 26, 2013

Superb jacket with amazing warmth and good looks. Wearing it makes me feel like I should be hunting pheasant with an Irish setter.

Reviewed by Aaron from Watertown on Tuesday, November 26, 2013

Very nice warm jacket reasonably priced


Reviewed by Cyclopath from Wisconsin on Monday, November 25, 2013

Love this coat. I have purchasedt and worn Filson products for years and this coat does not disappoint. True to size, looks great and is very warm. Sierra Trading had a great price and the delivery was quick as well. Good job.