Filson

Sizes

Special sizes (Big)

Gender

Style

Sleeves

Features

Colors

Reviews

Events

Prices

Made in USA

Popular Filson Products

Search Within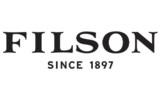 About

the

Filson

Brand
C.C. Filson began outfitting the Klondike Gold Rush stampeders over 100 years ago. He knew his clothing had to withstand the bitter cold and harsh conditions of the Klondike, and the survival of his customers depended on gear that would keep them alive in the frigid North. While the Gold Rush may be ancient history, C.C. Filson outdoor clothing is still going strong… maintaining the firm's reputation for honesty, legendary quality and durability. Every C.C. Filson garment is robust, rugged and manufactured from the finest materials available, so its wearer can withstand the rigors of the great outdoors. As the folks at Filson say, "might as well have the best."
Verified Buyer

Reviewed by woollover from Colorado on Sunday, December 4, 2016

Great intermediate weight wool shirt Jacket. Wind resistant, warm and very sharp looking. Soft wool not too scratchy.

Verified Buyer

Reviewed by d88 from Texas on Sunday, December 4, 2016

The Filson watches that are sold through STP appear to me to be good values on very nice watches. Made in the US by Shinola they are impressive. The watch itself is, to me, nice looking, hefty, and thus far, has continued to be accurate. The band is of a thick, high quality leather. If you want to spend more on a watch, relatively more for some, more than I'm used to for me, this would seem to be a good purchase.

Reviewed by las30 from California on Saturday, December 3, 2016

Super nice quality, but itchy. I am going to return it as I don't think anyone in my household can wear it.
Receive email updates for new Filson items