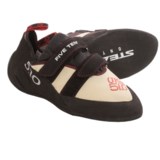 Closeouts. Five Ten Galileo climbing shoes help you reach for the stars with a stiff, supportive design that offers supremely precise front point edging.
Average Rating based on
4
reviews
5.000000
0
5
Verified Buyer

Reviewed by Rockclimbingguy from Rhode Island on Thursday, September 18, 2014

Hi I have been climbing for over 12 years. During this time I have used quite a few shoes, worn them out and resoled them. I have used Galileo for gym, sport and trad climbing. I can climb 5.11 in these shoes securely. They stick well.

I climb mostly in New England but I have also climbed some out west especially in Red Rocks.

I have also used dozens of La Sportiva, Scarpa and Evol. So far I like the Galileo best over all as a well balanced cost value shoe. I do not buy any shoes at full price. I buy what I can on sale. Fact is shoes are always being changed so I think you have to experiment a little to see what works. Some are better than others. Sometimes by the time you wear them out they either changed them or discontinued them.

This version of the Galileo has changed little since my last pair but I think they have been changed. It seems the heel pocket fits better on me. They are not as baggy looking on my foot either.

The first pair I bought I initially did not like them that much as they were not comfortable but after break in they were just fine. As I climbed in them I could actually feel that they did grip well for most of the climbing I did.

I just bought 2 more pairs from Sierra Trading Post. It is easier for me to do this than resole my old shoes. So I do not bother resoling my shoes.

There are several good on line reviews of this shoe so I am just repeating much of this here. The Galileo is a very good shoe especially if you find them at 1/2 price.

Like any shoe if it fits your foot well and it is well made out of good materials it will work well and last.

I have a 11 1/2 size D shoe as measured with a Brannock foot measuring device. I size the Galileo the same as my street shoe. This shoe will stretch very very little because it is a synthetic upper material. After I break them in I can keep them on my feet for 3 hours straight without significant discomfort.

The shoe is well made in the USA of quality materials. On all the Five Ten shoes I have used the rubber is glued well and I have not had any issue with rubber lifting or coming loose or separating like I have on others. The rubber is sticky, durable and holds up well.

I also wear Five Ten Anasazi. They seem a little more narrow than these and the heel pocket does not fit my foot as well. I personally like the Galileo more and would not buy the Anasazi again. The Anasazi does get slightly better reviews and it is a very popular shoe.

I have used the Five Ten Moccasym, several pairs. This is also a great shoe as well and it is made of leather so it will stretch and form to your foot I buy these in size 11. They did not hold up as long as the Galileo but they were more comfortable. I will buy these again when I see them on sale.

I have also used one pair of the Five Ten Coyote lace up. It is an ok shoe but I prefer velcro for quick on and off and easy adjustment. The laces did not hold up on these very long.

If you resole your shoes consider Five Ten rubber. I personally like it the best over all.

I think if these shoes fit your feet well you will be happy with them and they are a good value for the money especially if they are 1/2 price.

From time to time I clean the rubber on all my shoes with only dish soap, warm water and a stiff nail scrub brush, rinse well pat dry. It removes the dirt and gime along with oxidized rubber and you will see it come off. Try it if you do not believe me.

Sincerely
Bill

Verified Buyer

Reviewed by Sandeep B from California on Sunday, August 3, 2014

Very Good.

Verified Buyer

Reviewed by jdlee01 from Illinois on Sunday, July 20, 2014

Felt a bit stiff but softened up after about 5 pitches. Stealth rubber has good grip and shoe delivered solid performance overall. Consistent with the product description, I found the fit true to size -I bought street size and it felt comfortable all-day. Considering buying another pair half size down for more aggressive fit. Solid shoe...we'll see how well it does over time.

Verified Buyer

Reviewed by Peter from Maine on Wednesday, May 14, 2014

The Galileo is a great blend of stiffness (for edging) and flex (for smearing). The onyx rubber is super sticky and just thick enough to make edging easy. The last is flat so it isn't painful to wear when outside for extended periods. This is one of my dedicated trad shoes. There isn't any downturn and a bit less sensitivity due to the thicker rubber so I would not recommend this for the gym or steep stuff. Size these in your street shoe size. They will not stretch much if at all. I wear a 9.5/10 street shoe and the 9.5 in these are very snug. A 10 would be more comfortable as an all day, never take them off, trad shoe. I hope that helps.