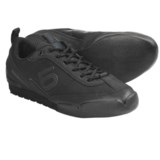 Closeouts. Five Ten Warhawk MI6 approach shoes are specially designed for slick surfaces and urban environments. The Stealth®MI6 rubber sole has nubs on the heel and is smooth at the toe, so you get friction and cushioning for tackling rock faces, trails and sidewalks.
Average Rating based on
7
reviews
4.571428
0
5
Verified Buyer

Reviewed by Oscar the climber from San Diego on Monday, August 11, 2014

Rubber is certainly very sticky, but the design of the shoe is very uncomfortable in steep terrain. The 5.10 guide tennies are the best.

Verified Buyer

Reviewed by Jim from Westminster, CO on Sunday, August 10, 2014

I wore these for the first time yesterday for a climb of the East Face of the Third Flatiron in Boulder. Wore them to hike in, climb and hike out. They were 5 stars on the climb. Comfortable and stuck to the rock well, with Stealth rubber soles. Some foot movement inside the shoe but that is the tradeoff for having comfort in climbing shoes. They were more than adequate for this climb ( an 8 pitch 5.4 trad route). I wouldn't wear them on more difficult climbs but my regular climbing shoes are toe torture devices and it was nice to climb in shoes with tennis shoe comfort.
As for hiking, I will stick to shorter approaches with these shoes. They got pretty uncomfortable on the long descent hike & I wish I had worn my trail runners and changed into these at the start of the climb (although one reason I got these was to avoid having to carry an extra pair of shoes up the climb). The soles are thin (good for climbing) and not a lot of support..
Can't comment on durability as of yet but I don't expect these shoes would hold up long with heavy use.
Overall, great shoe for shorter approach hikes and easier rock climbs. Very comfortable to climb in but less so for hiking.
I would recommend these for all day comfort on multi-pitch easier climbs, like the Grand Teton or the Flatirons but wear a different shoe to get to the climb.

Reviewed by Law3 from SoCal on Monday, July 14, 2014

Wow these shoes are outstanding. Lite and have grip. Make the best driving shoe this side of race shoes. They also look good which also helps. Buy them and you will be amazed.

Verified Buyer

Reviewed by Jeb Mac from Kenai Peninsula, Alaska on Sunday, April 20, 2014

I looked at this shoe on the recommendation of of a (much younger) co-worker who swears by the Five-Ten MI6 sole for Parkour activities.

I researched the high-tech rubber and found a use that is maybe not real well known; this shoe is perfect for aircraft pilots! The sticky sole gives a feel on aircraft rudder pedals that is better than anything else on the market! If you fly, you need to try the Five Ten MI6 sole. I can think of many outdoor Alaska activities that would perfect for the Five-Ten including riding all terrain vehicles and fishing slick areas on river banks. If you need a shoe that is going to last for years this may not be your first choice; if you want to experience the feel of a super tacky out-sole then this is for you.

It is also perfect on the platform pedals of my mountain bike and the smooth floors of the hospital where I work.

I got these shoes for $46 on an STP super sale. At that price you would be wise to pick up a pair and see what the MI6 rubber sole is all about. Highly recommended.

Verified Buyer

Reviewed by Gnome Hunter from Pennsylvania on Wednesday, April 16, 2014

A great shoe for walking to either a trail or a store on gravel or cobblestones. Comfort and support in one package. No breakin is necessary with its soft leather. Runs a little small so order half size up for urban use, cannot comment for a true approach shoe uses.

Reviewed by Mick the Teacher from California on Sunday, October 6, 2013

I needed a pair of black shoes to wear in the classroom when I wore navy or black pants. I looked and looked but all I could come up with were psychedelic shoes, which I felt uncomfortable wearing in a classroom. (Maybe if it was Halloween I dressed as a clown) Finally I found this pair of shoes. They were climbing shoes. I did not know what that meant, and was concerned when I took them out of the box. The looked like part racing slicks and part snow tires. I gave them a shot and after a week they seem to do well in the classroom. Comfortable and stylish looking. A good choice

Reviewed by Clinton Canoe Boy from Boulder, CO on Friday, August 16, 2013

I haven't wanted to take these shoes off since i purchased them. First, I have to give credit to sierra trading post; I literally ordered them then had them on my feet the next day. And they were an order off of a return which i hadn't even dropped off yet! Amazing! now back to the shoes: 100 percent satisfied with these shoes (I really hope they get more from five ten in the future) they are incredible. They dont stick to glass or painted rails like advertised, but, if you can get a good position/stance on either the rail or the glass where it is more toward the back where the dotted tread is instead of the flat toe, it really holds. These shoes are so sticky it sounds like suction cups as i walk across my kitchen floor. Honestly love these shoes. I will buy more just to keep ICE. buy these!