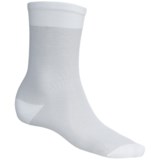 2nds. Polypropylene has excellent hydrophobic properties, making this assortment of Fox River polypropylene crew socks a terrific buy for cold, damp seasons. Light enough to wear under your wool socks for extra wicking power.
Average Rating based on
13
reviews
4.153846
0
5
Reviewed by LuLu from Los Angeles on Monday, July 15, 2013

These work well in hot weather too! Can't beat the price - I bought 6 pair.

Reviewed by Chaco Enthusiast from Indiana on Tuesday, July 2, 2013

I wear these as a liner under another pair of Backpacking/Hiking socks. They work REALLY well as liners, thin enough, but not too thin. I like the height of them as well. They go above my boots, but below my calves. They feel well made and of decent material. I would buy another pair of these in the future.

Reviewed by Look your best from Minnesota on Wednesday, June 12, 2013

It's nice to find ankle high Polypropylene socks. I will be wearing them year round.

Reviewed by TedT from Garfield Heights, Ohio on Wednesday, May 22, 2013

B ought these for hot weather wear. They are as advertised. Had a slight snag in one pair when recv'd. After washing it ended up being a hole. The cost was so cheap I didn't bother complaining. Second pair seems okay.

Reviewed by Ken from San Francisco on Tuesday, April 23, 2013

I use these as liner socks under my wool hiking socks to prevent blisters. They work great for that purpose. Liner socks keep your feet dry and also reduce friction against your skin. I would prefer that the fabric was a little more stretchy (like more expensive liner socks), but can't argue too much at this bargain price. I have mens size 8.5 feet and the size medium liners just barely fit me. Larger feet will be out of luck since they don't come in larger sizes.

Reviewed by KachinaBoy from Arizona on Wednesday, April 3, 2013

I hike in the deserts of Arizona where temperatures can soar. On top of that, my feet sweat profusely, because I like to wear a heavy leather hiking boot. So I'll change socks 10 times in a day just to get across the Grand Canyon. These are perfect for what I want - an extremely light, very shear, quick-drying liner sock. I will likely only need to rotate through three or four pair for a Rim to Rim. Wring them out, hang them on the pack to dry, and they should be ready to go again in an hour or two. The sales pitch says they're for cold and damp seasons - they're equally useful for hot and dry.

Reviewed by jo007athome from Scottsboro on Tuesday, March 26, 2013

Husband likes them, they are very comfortable.

Reviewed by Boot Lover from Michigan on Wednesday, March 20, 2013

The socks were very light weight as described. I personally thought they were more like a thicker nylon sock but great for doubling up for winter!

Verified Buyer

Reviewed by john from racine, wi on Wednesday, February 6, 2013

not much to say other than these are a good value and work great as a liner. I suspect I will get holes in them but in order to wear under other socks they need to be thin.

Verified Buyer

Reviewed by Mtn Man from Mtns of western PA on Wednesday, January 30, 2013

I bought five pairs. Inexpensive liner sock.