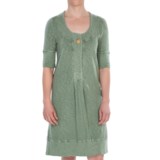 2nds. Pull on this simple French terry cotton dress for weekend outings. A hidden-snap henley neckline makes it great for layering, and the supersoft slubby cotton is as comfy as your favorite T-shirt.
Average Rating based on
51
reviews
4.117647
0
5
Verified Buyer

Reviewed by Michelle from Oregon on Thursday, June 11, 2015

This was great the first time I put it on, super comfortable. But, I quickly switched to feeling like I was wearing a shapeless bag, and it stretched oddly on the first wearing.

Reviewed by stpfan from Ithaca, New York on Saturday, March 28, 2015

Great fit, true to size, but it needs a belt if you have a tummy and maybe even if you don't: The dress is comfy and contemporary looking (not to my eye dowdy), but it has a square decorative patch that hits just about at my navel, and the dress looks a whole lot better if I wear it with a belt. It has a lovely, informal, hopsacking sort of look and the label says The Territory Ahead, so it figures. You could iron it but it looks in its element slightly rumpled.

Reviewed by ShellyG from Prescott AZ on Thursday, March 19, 2015

I have this dress in the sage color and now the black. It's all cotton and hangs very nicely. I'm 5'7" 140lbs. The medium fits perfectly, and it hits right at the knee. It washes well and didn't shrink in the dryer. Highly recommend.

Verified Buyer

Reviewed by freddy from Hawaii on Thursday, January 1, 2015

It's just a dress, something I may wear on the farm, certainly not to town.
Rather than pay to return it, I may try to add some funky elements to liven it up. Resurrection of the dead???

Verified Buyer

Reviewed by Jadawoman from WI on Wednesday, December 10, 2014

Had high hopes for this, but didn't work at all. Didn't seem to have much shape, and the fabric didn't have the body that I expected of french terry

Reviewed by Allison from Birmingham on Thursday, December 4, 2014

This looks frumpy in the photo. Because it got so many good reviews, I thought maybe the frumpiness was due to the round-shouldered model. I ordered the black. After it arrived, I tried it on several times on different days, trying to like it. Frumpy. I had tried it on in bare feet. Then I tried it on with black and plum paisley tights and some chunky (Naya) high-heeled oxfords. Wow! Taller shoes changed the proportions, so maybe if you're already tall, you wouldn't need tall shoes. Regardless, before you give up on it, you might want to experiment with different shoes.

Verified Buyer

Reviewed by Latintutor from PA on Thursday, December 4, 2014

Liked the first one so much, I went and got a second. Sleeves are a good length. Super comfortable dress, and launders well. Would give it 5 stars, except not crazy about the big wooden button in front.

Verified Buyer

Reviewed by on the go from Maine on Monday, November 17, 2014

This is a great dress. I bought the green on first and then ordered it in black. You can dress this up or down and I always get compliments when I wear it.

Verified Buyer

Reviewed by Doc from Safety Harbor, Gl on Monday, October 20, 2014

Despite its "2nds" status, the dress is perfect! Easily dressed-up or kept casual, it's ideal,

Verified Buyer

Reviewed by Sarah Snowdon from Emeryville on Sunday, September 28, 2014

These are wonderful, comfortable dresses and I have ordered another one. However the first one I ordered shrunk during machine laundering so I am going to have to investigate hand washing when it is time to clean this replacement.

Verified Buyer

Reviewed by Nor Cal Gal from N. Calif. on Saturday, September 27, 2014

Ay yi yi. The coloring of the fabric was blotchy; the fit of the dress made me look 10 pounds heavier.
i
It would make a good nightgown or something to wear on a long long train trip when you'd need something
comfortable to wear/sleep in.

I am returning it.

Verified Buyer

Reviewed by Philly filly from Pennsylvania on Thursday, September 18, 2014

I got the small, and it fits perfectly (5'3, 120) . I like the sleeve length and the simple lines. Very versatile. I haven't washed it yet and hope it won't shrink.

Reviewed by Kay from Alabama on Tuesday, September 16, 2014

I bought this dress in two colors and love them both. There is no visible sign it is a second. I am 5'7", 125lb and the small fits great.

Verified Buyer

Reviewed by Colorado Girl in Texas from Houston, TX on Monday, September 15, 2014

You can throw on this dress and be dressed instantly! It falls nicely on the body - not too tight but not like a sack! A good medium weight fabric that works in summer or the cooler months. The first time I wore it, I got many compliments. Easy to dress up or down.

Verified Buyer

Reviewed by Rebecca from Minnesota on Tuesday, August 26, 2014

This dress has a trendy look and is very comfortable. The knee length is perfect for me. I bought a medium, but could have worn a small. I usually wear size 8. I bought "merlot" and the color is redder than I expected, but still a nice color for fall. I look forward to wearing this dress with boots for my fall teaching schedule.

Verified Buyer

Reviewed by Jack from Colorado on Monday, August 25, 2014

Looked like a potato sack on me. Also was a mass of wrinkles as if had been washed and dried and left in the dryer. Maybe for someone else, not for me

Reviewed by Adk Mom from Upstate NY on Wednesday, August 20, 2014

I have been looking everywhere for clothes that will accommodate nursing access. I came across this dress, and it looked so comfortable. Then adding reviews, found someone else that also purchased the dress for nursing reason, and they felt it worked great. And agree, it will be perfect for those cool days, at soccer games, for my oldest. And I won't have to expose my belly and back to the cold. I have a few cropped tees, which I got for the purpose to I will wear under nursing garment, for added coverage while nursing.
As far as sizing:
I decided to review mainly for the sake of sizing, I am between sizes. I normally wear a 6-8 range, so that put me between Small & medium.
I am 5'4" and currently at about 135#, with a 34c bust.
I ended up purchasing both S & M sizes. They would both work okay. But I think due to the loose style fit, I prefer the small, it is still a comfortable loose fit, but not too loose, so it's less frumpy.
I will returning the medium, and hoped to get them exchanged for smalls, but the colors I did not order are now no longer available. Bummer!

Reviewed by Cohiker from Western Colorado on Tuesday, August 5, 2014

Yes it's a sack. And I am 5'8" 125# - for some reason I get compliments every time I wear it. Fabric is plenty sturdy and not see-through as are many slub cottons. Very roomy A-line...throw it on with sandals during the summer and I am sure I could dress it up with a wrap and tights and boots come fall. Appears quality made - and it's so cheap I bought another one in a different color...why not?

Verified Buyer

Reviewed by Shanon from Central Indiana on Monday, July 28, 2014

I love this dress....my new favorite thing....wish there were more colors availble. I would definitely buy more.

Verified Buyer

Reviewed by LJA from Boston, Ma on Saturday, July 19, 2014

This is a thinner fabric than I thought but a good product, fits well and is very comfortable. The green is a nice color too.

Verified Buyer

Reviewed by Dechen from California on Wednesday, July 2, 2014

The color of this dress is very pretty. It is comfortable and falls nicely, with a flattering neckline.
I pair it with olive tights and a white sweater. The fabric is on the thick side, but it works.

Verified Buyer

Reviewed by bargain hunter from Iowa on Saturday, June 28, 2014

Really good color and nice feel, just not a particularly good style. Had I tried this garment on in a store I likely would not have purchased it.

Reviewed by rosie16 from NC on Thursday, June 19, 2014

The fit is great looks just like the pictures the fabric is ugly looks like it have been wash a lot, also is a thick fabric good for fall , doesn't look dressy just a casual dress to go around

Verified Buyer

Reviewed by Nettie from Utah on Monday, June 16, 2014

I got one for both my daughter & I. She is 26 yrs 5'7" & about 125 lbs. the med fit great. I got the large with my 145 lb 5'4" frame . Great for just around the house or dressed up with scarves and jewelry. Who knew such a little comfy dress would be so versatile. I will wash in cold as it is cotton. It hits just at the back of the knees. I think you could wear for a pajama too. It's that comfy. The button makes it dressy looking. The colors are not bright but I love the look of the earthy washed out colors.

Verified Buyer

Reviewed by Sierra Shopper from Minnesota on Monday, June 16, 2014

The quality of this dress was great as well as the style and color but it did not look fitted enough on. It seemed to loose shape.

Verified Buyer

Reviewed by Jane L. from Sa Francisco on Monday, June 2, 2014

Lots of compliments. Sleeves a little tight but stretched within hours..

Verified Buyer

Reviewed by A-Peeling from PA on Wednesday, May 28, 2014

If this dress didn't get dirty, I would wear it every day! It is that comfortable. I have even fallen asleep in it. Haven't washed it yet, so hope it will hold up well in the washing machine. Comes to the knee so it is a decent length. Only downside is the big button, which is kind of ugly, but the dress is so comfortable, and buttons can be replaced.

Verified Buyer

Reviewed by Anonymous from Houston, TX on Wednesday, May 28, 2014

I bought the red. It is as described in the reviews -- comfortable and casual. It is a lightweight French terry, almost like a t-shirt weight, but does not cling. The neckline is not too low. I am 5' 2" and it hits the bend of my knee which is just fine.

Verified Buyer

Reviewed by casual dresser from Seattle on Wednesday, May 28, 2014

I loved this dress so much that I bought a 2nd. So far i have worn it out to lunch, to the spa, shopping and around the house. It is so soft and although can be worn for relaxing around the house to a swim cover-up, it is also nice enough to dress up with jewelry and wear out. One young friend said, "Wow I love your dress, its so stylish" He especially liked the big front button. It fits well and although it is loose I don't feel it makes me look "fat" as I have felt with other loose clothing. I think the wonderfully tailored, snug, but not tight, sleeves are part of the reason for this.

Verified Buyer

Reviewed by Leslie from Alabama on Tuesday, May 27, 2014

Great for a cover up or to throw on at home. Comfortable.