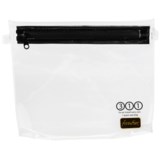 Closeouts. Instead of carrying your 3 oz. travel-size liquids in a plastic bag that might break or open in your carry-on, opt for the secure, durable and clear Frontier 3-1-1 liquids bag, sealed with a secure reverse-welt zip.
Average Rating based on
47
reviews
4.255319
0
5
Reviewed by Emmy1 from Milwaukee, WI on Sunday, April 30, 2017

I was so excited to have a durable, reusable bag that I could use for my monthly travels. Before I could even use it one, I found it tore about 1" from the bottom... sideways! It wasn't even along a seam as if I over stuffed it. Terribly disappointed - just glad I didn't spend a lot of money on it.

Verified Buyer

Reviewed by JammaGramma from Iowa on Monday, January 9, 2017

I got tired of my ziploc bags falling apart, so I ordered one of these...and have since ordered 3 more as stocking stuffer gifts. They are sturdy & I think they'll hold up well.

Verified Buyer

Reviewed by Chemin de Fer from Baltimore, Maryland on Tuesday, September 6, 2016

Haven't used the bag yet, but it certainly seems more secure than a Ziploc. My wife was really happy that I bought two for our trips.

Verified Buyer

Reviewed by Retired from California on Wednesday, July 27, 2016

The product label was glued across the front of the bag. It was very difficult to remove and left a mark. A plastic bag would work just as well.

Reviewed by traveld from Montana on Wednesday, July 27, 2016

I finally had to face the fact that they just don't make stylish TSA approved bags. This one is functional and at least looks classier than a ziplock bag.

Verified Buyer

Reviewed by DEL from NJ on Sunday, July 17, 2016

I have used this bag for several years for my carry on liquids and prefer them to the standard quart plastic bag. The zip can come apart if you put too much in the bag. It does self-repair.

Verified Buyer

Reviewed by Frequent Traveler from Minnesota on Monday, March 21, 2016

This bag makes traveling so convenient. I normally used a Ziploc bag that would disintegrate after a few uses. This bag is very durable and can be used countless times. Easy to clean too! Highly recommended!

Verified Buyer

Reviewed by annette from nc on Monday, March 14, 2016

used it for a week international travel. good quart sized container to put liquids in to get thru airport. also very good as a toiletry kit. Seems sturdy and see thru very helpful

Verified Buyer

Reviewed by Cyber terrapin from DelMarVa on Sunday, February 28, 2016

I will get a lot of use out of this.

Reviewed by Dave from New York on Saturday, February 6, 2016

Bought a few. We're nice before the plastic on each turned cloudy white (in less than a year); almost as if there was chalk dust inside. Going back to ziploc...