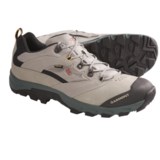 Closeouts. Garmont Eclipse trail shoes are ideal for day hikers and technical scramblers who prefer a low cut design. Gore-Tex® XCR® protection makes these highly breathable, and a stiff Vibram® outsole excels in rugged terrain.
Average Rating based on
20
reviews
4.250000
0
5
Reviewed by Photo Mike from NJ on Saturday, February 15, 2014

Great shoes and really have improved from the original non-GoreTex Eclipse to the Eclipse III w/ GT-XCR. My only two gripes:

1.) The Vibram soles will peel ever so slightly at the middle of the shoe immediately above and below the side reinforcecments. You notice when walking through tall, unkempt fields and light brush the grass will catch a small nook at the locations I described. A small amount of Shoe-Goo II or similar quality product will prevent the manufacturing defect from causing additional wear. The issue was much worse on previous versions (and even a degree worse on early production Eclipse III's). My current pairs haven't required any adhesive yet (one of which has about 1 year of moderate use).

2.) Unhook the laces and loosen before stepping in. In a rush, I got into a habit of jamming my foot in which creates an interior wear spot. Mildly noticeable but doesn't affect performance for my liking. Those who are more sensitive to Achilles rub might may find it affect performance. It is a common observation from customers on hiking and gear review websites. Just take your time when putting them on, use the loop on the back of the shoe gently and you'll delay the Achillies rub spot for 2 years or more.

Enjoy! I love these shoes and I'm sad to see them finally going out of production. The sturdiness, GT-XCR, Vibram sole and strategically placed reinforcing rubber.

Reviewed by Bird doggin from Eastern Colorado on Friday, January 24, 2014

This boot has a stiff sole, feels great and cleans up very fast. Took it bird hunting, walking all day at 35 degrees, feet was supported well and no issues with foot. Loved the shoe.

Reviewed by Alex U. from Louisiana on Sunday, January 12, 2014

These shoes are much closer to a low cut boot style hiker than a trail or approach shoe. There are two sets of metal eyelets that help determine the amount of string tightness on the upper and lower lacing areas. Not a bad looking shoe and the nubuck style material on the upper is easy to keep clean. The tongue is FULLY gusseted, which was a welcome feature. The lugs on the sole are only semiaggressive for muddy slippery paths, but the Vibram outsole sticks to rock like glue. The toe cap is holding up nicely through the first few adventures. Decent footbed, nothing to write home about, but doesn't require an immediate upgrade like some do. Note that the sole is pretty rigid, I think this shoe/boot is backpacking capable. I really like these, even though I thought they'd be a bit more like approach shoes. I'm still glad I got them.

Reviewed by hombre con tres perros from key largo on Thursday, January 9, 2014

seems true to size, seems sturdy, one possible issue with this shoe is some exposed stitching on each side of the tongue that hits the top of the foot. Hopefully this will not cause a rubbing problem. other than that seem very well made.

Reviewed by Ed from Tennessee on Saturday, January 4, 2014

Took these on a 5 mile dayhike the day I got them. They were a little stiff out of the box but broke in quickly. No blisters or hot spots with one pair of wool socks. These shoes are a perfect blend of on trail boots and trail running shoes. Good grip on a slippery, muddy trail. My feet stayed dry. They are perfect for light loads or day hikes. Definately order 1/2 size larger as they do run small.

Reviewed by Fitz from Harbor Springs,Michigan on Saturday, November 30, 2013

Needed a waterproof shoe,Excellent

Reviewed by Jeremyfl from Florida on Saturday, November 23, 2013

I have another pair of Garmonts and love them, so id died to buy these as well. The color and style is really nice, their waterproof protection is top notch and your feet don't sweat like crazy. Only problem is they rubbed on the top of my toes, not sure if it's the design or the shoe or maybe I just didn't break them in, but I couldn't handle it. I had to return them, actually getting another pair of Garmonts.

Reviewed by Bigjoeak from Northern Alaska on Tuesday, November 19, 2013

Needed a descent looking shoe that will hold up to the harsh climate of northern AK. This shoe fits what I was looking for. Solid water proof shoe with good footing on the snow and ice. the shoe is a little stiff at first it will take some time to break them in. The size and width was correct.

Reviewed by jasonandgiselle from Wisconsin on Tuesday, November 5, 2013

These are much stiffer and have less volume (feel like a narrower construction) then the previous pair I owned. I am working to break them in and hope they serve as well as my previous pair.

Reviewed by CardFanNOutdoors from Louisville on Thursday, October 24, 2013

This was my first time buying shoes online, so I was pretty nervous about the size and the actual color. I was relieved as soon as I opened the box and tried them on. I wear a 12 and they fit perfectly. These shoes seem like they will live up to any hiking challenge. I've had them a week and been through a cold rain and lots of mud. They very warm and comfortable. They are narrow but it feels like a perfect fit, really hugs your foot and very comfortable.