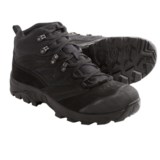 Closeouts. An assault hiker built for all-weather tactical use, Garmont T4 Gore-Tex® hiking boots combine speed and durable performance. The waterproof breathable upper combines nubuck suede and textile panels, and the Vibram® outsole offers excellent traction on tough missions.
Average Rating based on
34
reviews
4.470588
0
5
Verified Buyer

Reviewed by J.R. from Oregon on Thursday, March 19, 2015

Third pair of Garmont boots/shoes in 5 years. The first pair lasted almost 3 years wearing them hiking and for everyday use. Always impressed with the quality and fit of their boots and shoes. They no longer make the boots I originally had or I would have bought another pair. I bought these boots and a pair of shoes and they are all great.



Verified Buyer

Reviewed by Ocho from Seattle on Saturday, February 28, 2015

I have many boots, but from the moment I put these on I realized had not owned a great boot until now. I slid my foot in and the fit was incredible not too tight crushing my toes or oversized causing may foot to dance around. The design of the heal is the most comforting feature since it grips the heal with for stability walking or running. I have used them in the rain and warmer weather; well so far 60 degrees is the warmest so far in Seattle. These boots wear like a tennis shoes but act like boots not bending on rocks. They are lightweight but tough. I bought a pair of Timberlands last year for the same winter purpose and so far this boot has outperformed the Timberlands down to the lacing and the gussets, that are riveted (!), with a material that is no slip and durable. The only drawback for me is the color. Only desert was available in my size and around these parts mud is a companion to rain. I love the military look of the desert color but it also it is a sturdy boot that looks very sharp. I got this for less than $60.

Verified Buyer

Reviewed by college dad from iowa on Friday, February 27, 2015

I purchased these for my college age son. He usually wears a size 13. These were way too big. Had to return them for a size 12. Size 12 was still roomy,but fit. Would buy this product again.

Reviewed by Racine from Chicago IL on Thursday, February 26, 2015

Although these took a little getting used to for me I'm really pleased with these boots. The lacing system takes some getting used to. The first few times the tongue on the right boot would bunch up and it felt like there was a rock rubbing against my ankle. I've got that down solid now and find these comfortable to wear out doors and inside. The foot bed conforms to the foot really well and gives a real sense you have some solid footwear on. The aggressive lugs keep your feet firmly planted even on ice or slippery slush. I'm in Chicago and was pleasantly surprised at how warm these boots stay even when out in single digit weather. The Gore Tex works as its supposed to and keeps the moisture away from your skin and that makes for a warmed feeling I think. I got the light tan or sand color and they look great as well.

Verified Buyer

Reviewed by Marlon Brown from New York on Friday, February 20, 2015

These waterproof, breathable, and durable upper boots are a great feet investment; they keep out the elements without being too hard on your feet!

Verified Buyer

Reviewed by Logan from Indiana on Saturday, February 14, 2015

I like these so far but they are really stiff. They are comfortable though and seem well made. They also seem to run a little big (maybe narrow at the heal and long and wide at the toe). One last thing that kind of bugs me, but is no big deal, is that the laces are almost too fat for the eyelets which makes them hard to lace up.

After two weeks of wearing, overall I am happy with these boots.

Verified Buyer

Reviewed by Montrose, John from Colo. on Friday, February 13, 2015

These are my 4th pair of Garmont shoes. All have been high quality. Unlike the previous 3 pair...these boots are more true to size and have more toe room...so, order your actual size. Excellent boots at a great price.

Reviewed by Roger from Oregon on Thursday, February 12, 2015

I bought these boots because they were Gore-Tex, and had Vibram souls. This is my fourth pair of hiking boots that have been Gore-Tex+Vibram, and these don't measure up.

The Pros: Look cool, laces stay snug when pulled tight, and the boots are light.
The Cons: My feet seem to sweat more in these boots, water soaks through when stepping in a single mud puddle, the sole is peeling off one of the edges, don't seem very sturdy or tactical.

I wore these 6-7 days a week while delivering the mail for the USPS, and they didn't last even 3 months. If these boots can't stand up to mail delivery, then I wouldn't want to wear them on a deployment.

Reviewed by Great Scot from Texas on Monday, February 9, 2015

These are really great boots! You can't beat the great price. They have plenty of room in the toe box, true to size and very comfortable. I have been wearing mine daily for three months with no issues. I am working constantly in wet conditions and my feet remain totally dry. I am going to get another pair.

Verified Buyer

Reviewed by ken from chicago on Saturday, January 17, 2015

The boot fits well but I had to remove the insole padding to make room for my bunion. this boot wears well and with the padding remove, no more foot pain.