The Generic Surplus shoe brand was created in Los Angeles as an extension of The Generic Man, a brand that seeks to capture the laid-back spirit and style-conscious aesthetic of L.A.'s diverse fashion, art and music culture. Made to blur the lines between casual and couture, Generic Surplus shoes are only "generic" in their rejection of over-hyped fads, overbearing logos and over-dependence on brand recognition. Rife with understated sophistication and impeccable attention to detail, Generic Surplus shoes and boots will punch up your casual wardrobe without the flashy logos and brand propagand
... Learn more about Generic Surplus
a. ... Less
About the Generic Surplus Brand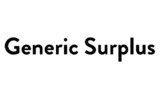 Reviewed by Johnnie from New Jersey on Sunday, January 5, 2014

Light and very comfortable to wear especially this time of the year (winter). I would recommend highly
for those people who are seeking a very nice and dependable boots to wear in winter.

Reviewed by hear-this from Brooklyn on Tuesday, December 3, 2013

...the test of any shoe is how it's holding up 6 months or 2 years from now. That is yet to be determined.

They seem like solid shoes, though. Comfy right out of the box. Look like solid build.

Aesthetically, I don't like how pointy the toes are, but that is just me. I don't like the 'formality' of a pointy toe.

Reviewed by Santa Fe Dave from Santa Fe, NM on Monday, December 2, 2013

The shoes are exceptional and very comfortable. Their "perceived value" is even more than the "Original" price

Reviewed by Avid camper from Indiana on Tuesday, October 8, 2013

Definitely trendy. Seemed to be well constructed. Run narrow which is great for me but definitely not if you have a wider foot. Also, not the most comfortable shoe in the world. I wouldn't wear these for an entire day but great for an evening out.

Reviewed by Julierooski from Ohio on Tuesday, September 17, 2013

We bought these in an 11 (my husband is a 10.5) bc of review saying they run small. That's true, but they still didn't fit, maybe because my husband has boxy feet in front and these would be better for the long-toed, thinner footed man. Otherwise beautiful shoes and leather.

Reviewed by Davis from San Jose from San Jose California on Tuesday, August 20, 2013

I got these to be my daily work shoes. They fit great but you'll need to break them in on a couple of long walks. I work in an office and I go on long walks during my lunches. These are stylist enough for me to wear to work and durable able to handle the daily beating from my walks thru the local park. The only complaint I have is the laces can snap very easily if you pull to hard. One of my mine did and I just replaced it with a new leather lace I got from Target.


Reviewed by Jose from Boston, MA on Tuesday, June 25, 2013

These are okay if you can get them at a low STP price, but are definitely not worth the full suggested price. They feel and look cheap. I got the brown suede and they look decidedly unnatural. Over-dyed. If you are looking for something stylish, look elsewhere. These could have been a nice, simple and trendy shoe, but the freakish coloring just screams "Pay Less." They are comfortable (although hot), but for the same price you could get a descent pair of sneakers here on STP.

Reviewed by KPotts from California on Wednesday, June 5, 2013

The Klein pairs with pretty much anything, casual to dressy, and is comfortable to boot. No pun intended. They are slightly narrow so you might want to order a half size up to give your feet some breathing room.

Reviewed by Harry from Colorado on Friday, March 1, 2013

A reasonably good quality, but somewhat overpriced. Should not have been above $50.

Verified Buyer

Reviewed by uncle fuzzy from slc utah on Saturday, January 19, 2013

These shoes look great! They are a little bit narrow so order a size larger than you normally would. My shoelace broke after a few uses. They are a leather lace so the leather might have just been cut too thin in that spot.