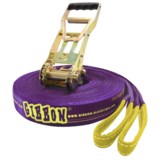 Closeouts. When you want to go the distance, Gibbon Slacklines' Surfline slackline is one of the longest ratcheting lines currently available -- more than 95 feet long! Ideal for tricks and distance slacklining, the Surfline provides generous amounts of bounce and fast, easy installation.
Average Rating based on
15
reviews
4.733333
0
5
Verified Buyer

Reviewed by josh from Perth, Australia on Thursday, December 4, 2014

great product, good price (escpecially at the additional 30% off)
Fun line to play on, perfect to learn for jumping and bouncing around!
Totally recommend
Shipping to Australia cost a fair whack but still happy with the purchase.

Verified Buyer

Reviewed by Rabbit mtu from Michigan on Monday, October 20, 2014

Excellent line! Similar in bounce and feel to the JibLine, but you can set up double the length which is awesome! And the ratchet is super heavy duty with an arm that is twice as long as the one on the JibLine so it is super easy to tension. Awesome line and if you find the right coupon code you can get it for around $72 which is an absolute steal!!

Verified Buyer

Reviewed by Gma from Pennsylvania on Sunday, September 21, 2014

Gotten for use by an autistic child who Loves balancing on the line. Great activity for him and his sister has fun too. Good quality at a good price.

Verified Buyer

Reviewed by SLJ from Utah on Monday, July 28, 2014

Our family is new to slacklining, with no experience for comparison except a tow strap stretched between a tree and truck, so I can't offer much in the way of comparison to other products. It's plenty bouncy even when stretched as firmly as you dare. That probably makes it more difficult to learn on than a more rigid line. My kids were able to walk the 25" tow strap in a few hours but none mastered the 60' we had this stretched. But they had lots of fun trying.

Verified Buyer

Reviewed by the brown fabio from Idaho on Wednesday, July 9, 2014

These are pretty fun. I have a regular one and its tough but I can almost make it across. This one however is much bouncier. Way bouncier. I saw it spring right up into a kids third leg when he attempted to jump on it and missed. So maybe wear a cup and always be safe. Its fun and I really want to learn some tricks. The line itself is pretty sturdy and so is the ratchet. Sometimes it slips a little when you are really cranking on it to get it super tight, but thats about the only issue. Also, to get it tight, you need to be rather strong. If you aren't, just let me know and I'll come over and impress you.

Verified Buyer

Reviewed by irfan from Amsterdam, The Netherlands on Wednesday, June 25, 2014

after being introduced slack-lining by an acquaintance, I decided to order this line, the same one he was using. The package (a cardboard suitcase, easy to carry) contains the line, the ratchet and a quick guide on how to properly set up your line. The line itself also has a label containing the most important info.
I was able to get my line up by myself on my first attempt without any problems. Taking it down again and was also very easy with the help of indicators engraved in the steel ratchet.

The quality of the line is great and with this line's elasticity you can use it both slacked and tight.
I decided to go for the 30 meter line so that I can set it up short at first (around 12-15 meters) and expand it when my skill increases without having to buy a new line. The width of this line also makes it great for beginners.

The order took just a little more than 1 week from order to delivery (I ordered during the weekend), from US to the Netherlands, which I found very acceptable. The pricing was cheaper than any other source I could find, and even after I had to pay ridiculous tax and processing costs to Dutch customs it was still significantly cheaper than local retailers.
The parcel also contained a bunch of coupons. That was the one part that I thought was a bit unnecessary, or a bit silly even. I'm really not going to order catfood from the US for my cat in the Netherlands so I can save $4,-.

Overall: an excellent product and a neat delivery.

The only point of improvement that I can think of for Sierra Trading would be to add the Gibbon Treewear to the product range (and possibly add a combo deal?). Trees are good to us; they provide oxygen, shade & hookup points for the line, so we should take care that our recreation doesn't hurt them ;)

Verified Buyer

Reviewed by Snowbomb from Ottawa, ON on Monday, June 9, 2014

Slack line was just what i was looking for, easy to find online, great cost savings over the local shop, delivered in a few days! Good experience.

Reviewed by Alec from Illinois on Friday, June 6, 2014

I started slacklining on a jibline and the surfline was the obvious next step. The construction of the line and the rachet are very sturdy and don't look like they will break anytime soon. The line is very springy and will allow you to do any trick your heart desires.

Verified Buyer

Reviewed by ramzi from Oregon on Friday, April 18, 2014

the best line (if not the only one) on the market

Reviewed by TRex from VA on Monday, July 22, 2013

I have a Gibbon Classic 80 footer, and then just added this puppy to my arsenal. I didn't expect such a huge difference in the two lines but I was wrong, this thing is super thin making it super bouncy. If you are trying to get into longlining then you may just want to go ahead and get a 1" setup with a rigging system. But if you want something somewhat long and bouncy for tricks then this is it.